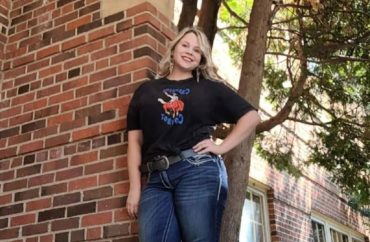 University punished her for refusing to bow to the LGBT agenda
A Montana State University student who criticized "preferred pronouns" settled her lawsuit against the school after it punished her for "hate speech."
Campus officials recently agreed to lift a "no-contact order" it placed on Daria Danley in Sep. 2021 which forbid her from attending sorority events or entering buildings where another student Alex Lin was. The initial lawsuit alleged that Lin, a member of Danley's Alpha Gamma Delta sorority, made overt sexual comments to Danley and others.
Danley (pictured) accused the sorority of not taking her complaints about Lin seriously. She also criticized the sorority's use of name tags that included "preferred pronouns," during an Aug. 2021 event.
"In the settlement agreement filed last week in U.S. District Court of Montana in Helena, the Bozeman campus agreed to end its no-contact order, and Danley agreed to dismiss the case," the Daily Montanan reported.
"The fact that MSU is caving in on its no-contact order is an admission that they know it's unconstitutional," Danley's attorney Matthew Monforton told the local newspaper.
"Montana State University has accepted this settlement as a conciliatory mechanism to best serve the interests of our students," a university spokesman told the Montanan.
Both sides agreed to pay their own legal fees as part of the settlement, according to the Montanan.
This is not the first time the public university has been sued for imposing gender ideology on students. The university agreed to pay $120,000 to settle a lawsuit from Erik Powell in 2017. Powell privately criticized a gender dysphoric student in a meeting with a professor.
The issue of "preferred pronouns" continues to cause headaches for universities.
Shawnee State University agreed to pay out $400,000 to settle a lawsuit from Professor Nicholas Meriwether after it punished him for not using a student's made-up LGBT pronouns.
The public Ohio university, "agreed Meriwether will never be mandated to use pronouns, including if a student requests pronouns that conflict with his or her biological sex," Alliance Defending Freedom announced at the time.
A Southern Utah University professor also sued to stop mandatory pronoun usage in Sep. 2022.
"Professor Richard Bugg [must] submit to education about current views and opinions of English language and grammar experts and resources that using Gender-Neutral pronouns when referring to an individual is now considered grammatically correct," one sanction stated, as previously reported by The Fix.
"Asking people to use plural pronouns to refer to individuals is one thing," the theater professor stated. "Forcing them to do it is another and contrary to our rights of free speech."
Other students and professors should fight back like Danley did against gender ideology.
MORE: DePaul students call on administration to 'eliminate' Christian group
IMAGE: Daria Danley/Facebook
Like The College Fix on Facebook / Follow us on Twitter