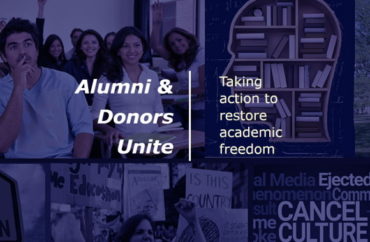 Enough with the white papers, conferences peppered with hand-wringing, and op-eds that bemoan the progressive left takeover of higher education.
That's the sentiment of a group of alumni and donors who contend a fighting "ground game" is needed to restore intellectual freedom to college campuses.
Members of Alumni and Donors Unite, a self-described "action tank" based in California, are working to change that.
"If parents understood what their student was being exposed to, and that other parents felt the same way, there'd be a revolution," scholar Terry Gannon, the group's main researcher, told The College Fix.
The group takes a specific approach to its goals: first, expose bias and free speech violations on a campus by campus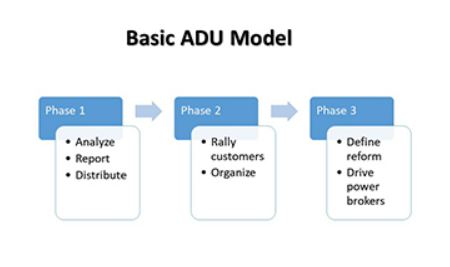 basis; next, inform and connect parents, students, alumni, donors and other stakeholders about the problem; finally, encourage them to be squeaky wheels who demand change.
"Our biggest issue is getting people informed," Linda Sweeney, founder and president of the group, told The College Fix, pointing out that some alumni and donors simply aren't paying enough attention to the "depth" of the problem.
The two-year-old nonprofit is "committed to restoring free speech and diversity of thought to college campuses," an online description on LinkedIn states.
"We … are concerned that too many courses, professors, and trainings at universities actively prevent young people from understanding the foundations of freedom of inquiry, self-empowerment, and the beneficial powers of free enterprise."
One of the group's first exposes was at the University of San Diego, publishing a report in September 2021 dubbed "Woke Takeover at University of San Diego."
Examining the private university's Diversity, Equity and Inclusion initiatives, the report showed how the Catholic institution has doubled the amount of required diversity classes and used support for its current DEI initiatives as a factor in hiring.
The 29-page report investigated many university protocols and curriculum details, concluding that only "the concerted action of donors, alumni, and parents … can pressure USD to change direction away from this pernicious ideology."
The report led to a piece in the center-right Claremont Institute's American Mind headlined "The woke blob swallows the University of San Diego."
The conservative National Association of Scholars had noted in sharing the USD report on Facebook that "America needs these individual reports, and we need to know how this new radical establishment has taken over each university."
The country needs "to know what's happening at every single college in the country—and we need a comprehensive analysis of just how the new radical establishment has taken over each university," NAS also noted on its website.
"Policymakers, alumni, and ordinary citizens need to know precisely what is wrong at each university, so they can apply pressure on these institutions to reform themselves."
To that end, the association has called for a researcher at every college: "maybe a professor or a student, maybe an ordinary citizen. We need someone who knows that individual college, who loves what it once was, and who will take the time to write about what has gone wrong, so it can be put right again."
The hyperfocus on specific campuses was a model established by the Idaho Freedom Foundation, whose scholars took on Boise State and the University of Idaho in recent years, producing detailed reports on DEI and social justice initiatives and activities at each of the campuses, leading to increased legislative pressures from Gem State lawmakers.
"You can't create reform when it comes to higher education on such a macro level, it has to be done up close," said Anna Miller, who co-authored the Idaho reports, in an interview with The College Fix.
She said showing local parents, students, taxpayers and lawmakers what's specifically going on in their own backyards is the key to success.
In another example of Alumni and Donors Unite in action, the group produced a scathing report on the alleged degradation of standards at Harvey Mudd College, long recognized as one of the premier STEM colleges in California.
The report came around the same time as the college searches for a new president and HMC alumnus and scientist James Enstrom has used it to help bolster the case for a return to academic rigor from the top down.
Alumni and Donors Unite has many more reports in the offing, its members told The College Fix.
Sweeney and Gannon both said that ignorance of how colleges truly operate leads to a lack of pushback for administrators and campus leaders.
If stopping university decline is a revolution, then ADU says they're gathering the forces. Its leadership team includes Harvard-educated school creator Michael Strong, experienced consultant Leif Smith, and former philosophy Professor Carrie-Ann Biondi.
Both Gannon and Sweeney admit the odds are not in their favor. Gannon noted faculty insiders are hard to find, because so many are afraid of retribution: "People are so afraid of being canceled that they'll operate with cement shoes."
"There are days when I think it's a lost cause," Sweeney said, noting that lack of interest also hurts the cause as parents see the college fight as a four-year one: "People think they can weather it and get their kid out of the institution."
While the odds may not always be in her favor, Sweeney said the role her group plays is too vital; to her, it's better to engage than "just wringing our hands."
MORE: Alumni at prestigious college withhold donations as campus restricts free speech
IMAGE: Alumni and Donors Unite
Like The College Fix on Facebook / Follow us on Twitter