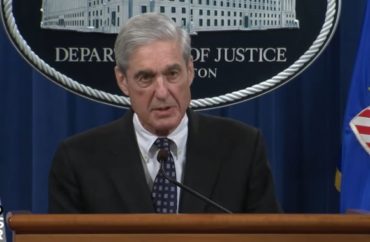 ANALYSIS: UVA may be hosting a class on the Mueller probe, but don't expect students to learn the whole truth from its instructors
The University of Virginia is set to host a class on the costly, politically fueled Mueller investigation, a course that will feature Robert Mueller himself.
Mueller will take part in the University of Virginia School of Law course, which will take students "inside the investigation that dominated headlines during the Trump administration," the university announced this week.
It will largely be taught by former senior members of Mueller's team and "offer an inside look at the role of special counsel," the university news release added.
"The course will begin with the start of the investigation and Mueller's appointment as special counsel. It will then focus on the special counsel's relationship with Congress and the Justice Department, how the investigation related to the White House and the Roger Stone prosecution," Axios reports.
While the news release touts the Stone prosecution, it completely ignores the fact that the probe was proven to be a complete and total farce motivated by political animus.
Will the UVA students ever hear how a "prosecutor with Robert Mueller's Special Counsel probe is being investigated for falsely testifying to Congress that political appointees at the Department of Justice applied undue pressure on career supervisors in the case of Roger Stone?"
Probably not. Here's some other news that probably won't come up during the course:
FBI Agent on Flynn Case Believed Prosecution Was Used by Mueller Team to 'Get Trump'

New DOJ Documents Show Wholesale Evidence Destruction By Mueller Team

New Flynn Transcripts Confirm Mueller Team Lied To The Court And The Country

Declassified Flynn Transcripts Contradict Key Mueller Claims Against Flynn

Robert Mueller's Case Against Michael Flynn Is About To Implode

Mueller Prosecutors May Have Lied To DOJ About Stone Prison Sentence Recommendation

Mueller's Ignorance Of Fusion GPS Proves His Investigation Was A Sham
And the list goes on and on.
We could offer dozens — hundreds — of headlines regarding the sham Mueller probe, which found absolutely no collusion between Trump's campaign and Russia despite two years of investigations and $25 million dollars in taxpayer dollars.
But will students hear any of this? Not a chance.
Let's not be surprised that it's on a college campus where Mueller will be lionized, his probe put on a pedestal.
Keep in mind, higher education is also where Hunter Biden, Peter Strzok and Beto O'Rourke landed teaching gigs.
MORE: Law professors agree: 'Politics' the reason DOJ dropped the Michael Flynn case
IMAGE: YouTube screenshot
Like The College Fix on Facebook / Follow us on Twitter