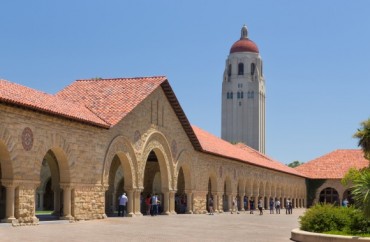 UPDATED
Department of Ed specifically ruled out university's justification?
Adam Kissel only started filing Title IX complaints against college programs that allegedly discriminate against men in the past few months, but he's especially shocked about his latest target.
"[I] have never seen discrimination so pervasive as at Stanford," the former Department of Education official tweeted, naming 33 programs that he believes practice sex discrimination – 22 in the name itself.
Kissel filed a Title IX complaint against the private university with the department's Office for Civil Rights late last month, and shared it with The College Fix upon request.
It includes a "Frequently Asked Questions" section specifically "tailored to this complaint," which "answers many questions you might have," Kissel wrote to the agency.
The Supreme Court does not limit discrimination to "direct signs that people will see," such as a program that literally says "women only," but also "actual practices" such as "recruitment techniques," the complaint said.
Kissel said website language for the programs, and the absence of male students in photos, would convince a "reasonable male" that he cannot participate in the programs because of his sex.
He embedded several images from the flagged programs as well. An image for the Girl Code @Stanford program explains "Why We Do It," which is to make computer science "a more appealing major" to women before they start college, given the "huge labor shortage in technology jobs."
Kissel noted this rationale was expressly rejected by the department in one of its last guidance letters under Trump. It said colleges cannot cite "national statistics as evidence of limited participation" to justify sex-based scholarships or programs.
Yet this argument is "at the core of how the University states its choice to discriminate on the basis of sex," he wrote to OCR's San Francisco office. Versions of the word "discriminate" appear 72 times in the 17-page complaint.
Kissel joined the Trump administration as deputy assistant secretary for higher education programs in the president's first year but left before midterms.
Stanford media relations did not respond to multiple email and phone requests for comment from The Fix.
Anti-male bias federal complaint against Stanford University by The College Fix on Scribd
'A reasonable male would understand he is not welcome'
The complaint outlines allegedly sexist practices at Stanford covering scholarships, STEM-related offerings, business school programs and initiatives around leadership, faculty and mentoring.
Several summer camps, education/leadership programs and other women's groups either expressly or implicitly bar male students from entry. The innovation program Seeds of Change, funded by a grant from the technology company VMWare, repeatedly cites "underrepresentation of women" to justify excluding men.
"A reasonable male would understand he is not welcome on an equitable basis with females … if he is welcome at all," and he would "not click through to find the unbelievable statement that 'all genders' are welcome," Kissel wrote.
OCR requires programs that are discriminatory on their face to "effectively communicate nondiscrimination," yet Stanford hides "a nondiscrimination statement deep in its website, which clearly contradicts all other advertising about the program."
In addition to the 12 STEM-specific instances, the complaint makes eight allegations against the Graduate School of Business, such as a "Women's Circles for alumnae but no 'Men's Circles' or equitable opportunity for male alumni."
The Executive Program in Women's Leadership makes a "profession of nondiscrimination" on the bottom of its page, but it requires "an extra click," the complaint said: Again, this would not "persuade a reasonable male against the clear evidence" the program is for women.
MORE: Feds ban 'national statistics' as basis for women-only programs
Nine more allegedly sexist practices concern leadership, faculty and mentoring. The "Women Faculty Networking Luncheon" does not "effectively communicate" the activity is open to men; the "Faculty Incentive Fund explicitly provides a funding preference" for women over "equally qualified men in the same hiring pool"; and Stanford Law's
Women in Politics, a recognized student organization, "clearly engages in activities with a preference for women" regardless of its statements on membership and participation.
Finally, the complaint makes four allegations about scholarships that violate Title IX. It cites six "Cap and Gown" scholarships for women "that do not appear to be part of a pooled scholarship program that would satisfy Title IX."
The Department of Music has three flagged scholarships, two of which are explicitly reserved for females. The third, for "Diversity in Computer Music," is available to women, ethnic and gender minorities, and first-generation students, meaning men are only eligible if they "fit one of the other categories."
Stanford's Student Affairs office advertises a "discriminatory external scholarship" by Stanford Professional Women of Los Angeles, which says applicants "must" be female.
Kissel told The Fix that OCR's San Francisco office had not responded to him as of Friday night.
CORRECTION: Kissel started filing Title IX complaints before President Biden's inauguration. The error was made in editing. The article has been fixed.
MORE: Trump education official asks Biden lawyers to strike down programs
IMAGE: Ken Wolter/Shutterstock
Like The College Fix on Facebook / Follow us on Twitter