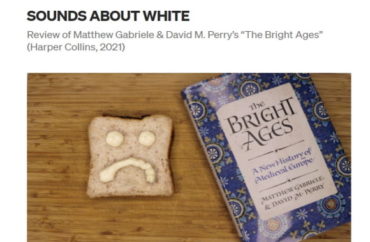 A relatively new book about the Middle Ages that includes the stories of women and minorities has been accused of whitewashing history and centering white males, prompting a lively debate among medieval scholars.
"The Bright Ages: A New History of Medieval Europe" aimed to be inclusive and correct misconceptions about the Middle Ages. It is authored by Matthew Gabriele, professor of medieval studies and chair of the Department of Religion & Culture at Virginia Tech, and David Perry, a journalist and historian.
"The word 'medieval' conjures images of the 'Dark Ages'—centuries of ignorance, superstition, stasis, savagery, and poor hygiene. But the myth of darkness obscures the truth; this was a remarkable period in human history," according to its description.
Gabriele and Perry "refute common misperceptions of the European Middle Ages, showing the beauty and communion that flourished alongside the dark brutality."
But historian Mary Rambaran-Olm, a postdoctoral fellow at the University of Toronto, has self-published a negative review of the book. Rambaran-Olm accused its authors of whitewashing medieval history in her April 27 Medium review headlined "Sounds About White."
She argued the book is not progressive enough and erases "transgender and queer folks."
"Gabriele and Perry reveal their core audience through specific words and phrases that most likely would not raise the collective eyebrow of a predominantly white audience," Rambaran-Olm wrote in her review.
"We can't change our positionality, but the book would have benefited from an acknowledgement that the author' readings and interpretations came from their position as white males," the review continued. "Writing a book that aims to feature women and/or other marginalized figures demands a stepping outside of oneself that is not accomplished throughout this work."
"Simply naming women who remained subsidiaries in a patriarchal society, or referring to auxiliary figures who were Muslim, Jewish, Mongols, or pagans (never mind the near erasure of trans or queer folk) in order to demonstrate how Christianity developed is nothing less than Christian apologia."
Rambaran-Olm also accused the book of "playing on a white male authority."
"Gabriele and Perry are exceptional Crusader scholars but they rely on their whiteness for authority, as illustrated by the way a 250-page book has no footnotes or endnotes," she wrote.
"Certainly, explanatory notes are not expected as they would for a strictly academic book (and perhaps the publisher wanted them kept to a minimum), but white, male privilege is evident throughout this book as readers are expected to take historical anecdotes and episodes as truth without any supporting evidence."
According to the New York Times, Rambaran-Olm said she believed she had written a fair review and stated it wasn't meant to attack other scholars, but a "gesture to dialogue."
Rambaran-Olm did get some criticism by other scholars. Her review was originally meant for the Los Angeles Review of Books, but it was rejected, leading her to publish it on Medium.
"[S]he accused Matthew Gabriele and David Perry of 'whitewashing' medieval history […but] they attempt very much to do the opposite. They include the stories of figures (women and minorities) who are usually not included in trade histories covering over 1,000 years," Regent University English Professor Micah Mattix wrote in his Prufrock books and arts newsletter.
"Here we see Rambaran-Olm's real problem with the book. Throughout she accuses Gabriele and Perry of excluding or altering facts for political or racial reasons. (They don't, or if they do, it's almost always in the service of minorities.) But she doesn't care about facts," Mattix wrote.
"What bugs her is that they didn't exclude or alter facts enough in the service of her political agenda. Don't remind people that Jesus was a Jew and an immigrant. Don't say anything good about Christianity or white people. Tell people only how terrible both Christianity and medieval Europe were, and if you don't, you're misrepresenting the truth."
In a now-deleted Twitter thread, Sarah Bond, a classicist at the University of Iowa, also accused the Canadian scholar of using a selective version of facts in her review.
"You have gone to great lengths for days to not show our actual emails or comments in full because it would show: 4 editors voted down this review, including an editor of color," Bond wrote, according to the New York Times.
"This is not about whiteness," Bond continued. "It is not about protecting white men. It is about saying sometimes reviews and writing don't work out in public spheres rather than academic journals."
Daniel Franke, professor of European and global history at Richard Bland College of William & Mary, said in an email interview with The College Fix that the current situation in medieval academia can be summarized as "the revolution eats its own."
"Gabriele and Perry consider themselves staunch champions of the left. However, when charges of racism and upholding structures of white supremacy were leveled at them from their left flank, they have responded with near-total silence on the matter, as has their friend who wrote the *positive* LARB review, Eleanor Janega."
"Sarah Bond, the commissioning editor for Rambaran-Olm's review (and also a friend of Gabriele and Perry) tried to defend her editorial process and was fiercely attacked to the point that she deleted her Twitter account," Franke said via email.
Rambaran-Olm has garnered support for her efforts, as well.
(somewhat belatedly, but collective response takes time…) /postmedieval/ would like to share its statement of support for Dr. Mary Rambaran-Olm @ISASaxonists https://t.co/D96BCzLZ4c pic.twitter.com/sD7pKfsVPw

— postmedieval (@postmedieval) May 6, 2022
Rambaran-Olm, as well as the book's two authors, have not responded to requests from The College Fix seeking comment.
MORE: Medieval Studies scholars deem field too white
MORE: History scholar seeks to reclaim medieval period from white supremacists
MORE: White supremacy allegedly 'tearing apart' academic medieval studies group
IMAGE: Medium screenshot
Like The College Fix on Facebook / Follow us on Twitter