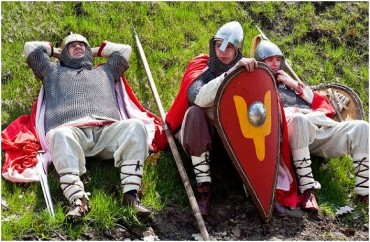 Middle Ages were not 'a predominantly white culture'
Modern-day white supremacists look back fondly on a medieval period that was far more diverse than they would like to admit, a scholar of medieval studies told an event hosted by the University of Alabama-Huntsville's history department.
The University of Maryland's Colleen Ho said the Crusades are "used as an inspiration" by white supremacists for "the way they want things to look."
She warned of "Templar revivalism" in the U.S. and around the world: "White supremacists use medieval history to justify violent behavior."
Yet Ho continually emphasized that white supremacists – as well as Hollywood – overlook the diversity of this long-ago world and push "the myth that the Middle Ages were a predominantly white culture."
MORE: White supremacy allegedly 'tearing apart' medieval studies group
Exactly how much danger white supremacists pose in the U.S. was never put in quantitative terms, however.
Nicole Pacino, a history professor at UA-Huntsville, opened the Monday evening virtual lecture by claiming white supremacists are a "major threat" in terms of terrorism in America.
She cited FBI Director Christopher Wray's congressional testimony this fall that "racially motivated violent extremism" is the biggest segment of the FBI's domestic terrorism cases, and "white supremacist-type ideology is certainly the biggest chunk" of that smaller bucket. (Wray named violent anarchists among other segments of domestic terrorism cases.)
And while Ho claimed that President Trump repeatedly "rejects the opportunity" to reject white supremacy, she failed to mention his highest profile rebuke of white supremacy after the Charlottesville riots. Ho cited Trump's "Stand back and stand by" comment at the first presidential debate this year.
'I don't think regulating Facebook will solve the problem'
Ho's talking points dwelled on the correlation between white supremacists glorifying the military aspects of the Crusades and anti-Muslim sentiment among extremist groups in America.
"Modern Islamic terrorism is perceived as a continuation of the wars that took place during the Crusades within terrorist communities," the scholar answered a questioner at the end of the event.
Yet even though they seem to have residual anger about the Crusades, radical Islamic extremists were far less hung up on it, Ho emphasized early.
"From a historical Islamic perspective, the Crusades don't mean that much – because [the Christians] failed," she said: "Far fewer Islamic sources discuss the Crusades versus Latin, Christian texts."
MORE: Medieval studies scholars deem the field too white
The historical acknowledgement of the Crusades in Western education systems has provoked white "terrorist groups" to utilize the crusades to "inspire recruits."
Ground zero for all of this right-wing extremist activity, Ho said, is the freewheeling internet. "Facebook has their work cut out for them" in terms of policing its platform to root out right-wing extremism.
She described the internet as "a 24-hour hate buffet on 8chan, Facebook, Twitter, Reddit, InfoWars, Daily Stormer" and other websites. "White wing extremists [that] are inspired by Trump" depict Pepe the frog as in KKK robes.
Yet Ho is apparently a skeptic of government mandates on social media. "I don't think regulating Facebook will solve the problem, because people will always find another platform," she said. And those alternative platforms "become echo chambers," particularly 8Chan.
'White medieval Christians would not approve of burning crosses'
Ho emphasized that "monk knights," also known as warrior knights, are regarded as a paradigm for modern white supremacists. They consider the Crusades as "defensive and necessary wars."
The reclaiming of Jerusalem seems to be the focal point of most such groups and individual extremists, according to Ho.
She pointed to Anders Behing Bricik's terrorist attacks targeting Muslims in Norway from 2011-2012. His manifesto included elements that drew from the medieval crusader era, she said. The 2019 Christchurch mosque shootings in New Zealand that killed 51 also fit this paradigm.
"Southern men turned to the medieval ages to cope with the Civil War in creating the KKK … enacting Jim Crow laws and burning black businesses," Ho (right) said.
The actual Christian crusaders commissioned by Roman Catholic popes to reclaim the Holy Land and Jerusalem thought of themselves as pilgrims rather than crusaders, according to the scholar.
"Fact and accuracy are not white supremacy's strong suit," she said: "White medieval Christians would not approve of burning crosses," and Vikings traded with Jews, Christians and Muslim kingdoms.
MORE: Medievalists protect 'vulnerable' scholars from microaggressions, jokes
The National Socialist Movement, which Ho termed a notable white supremacist group in America, rebranded itself by replacing its swastika logo a with the odal rune, a medieval symbol contemporary to the Crusades but not associated with the military campaign. "Changing their imagery does not change their racist ideas," Ho said.
Ho advised the audience to read biographies on medieval figures such as Moses ben Maimon, Genghis Khan, his grandson Kublai Khan and the African Emperor Mansua Musa.
"Western culture and Western civilization" create a "misconception of how interconnected societies were," she said. "It forgets that the medieval world and the ancient world was actually really interconnected."
There is a strain of white supremacy in the United states that thinks Christianity is a "weak and pathetic religion" as well, Ho argued. This is part of a recent recovery of pre-Christian and religious practices, which "mixed in a potent stew particularly in American prison systems."
At the end of the event, a student asked if "the wave of white supremacy [was] worsened by the 9-11 attacks?"
Ho's response: "What does white even mean?" She continued that students should look up "amusing" videos of white supremacists "opening their DNA tests" to learn they are not 100 percent white.
MORE: Feminist scholars berate female professor for 'Three Cheers for White Men'
IMAGES: Sergii/Flickr, Project MUSE/YouTube
Like The College Fix on Facebook / Follow us on Twitter