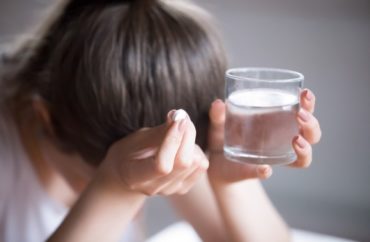 Pro-lifers say new law lacks safeguards, support for families
Students at New York public universities have access to abortion pills on campus for the first time this fall, a change that pro-life leaders say puts lives at risk and lacks support for families.
"New York has the most regressive abortion laws in the world," Michele Sterlace of Feminists Choosing Life of New York told The College Fix this month regarding the change.
Sterlace's and other pro-life organizations have been speaking out against a new state law that requires the State University of New York and City University of New York systems to offer medication abortions, or abortion pills, to students on campus.
According to the law, the public colleges and universities must "employ or contract with authorized prescribers" to provide medication abortions or "provide students with information and referrals to local authorized prescribers."
The New York legislature passed the bill in May, and the law went into effect Aug. 1, a few weeks before students returned for the fall semester. The state gives the public university systems until 2025 to report how they are complying with the law, including whether they are providing abortions on campus or referring students to outside providers.
The College Fix contacted the SUNY and CUNY media offices, seeking information about the implementation of the law, including the number of students' requests for abortions since Aug. 1, the costs of implementation, and the other services their health centers offer to pregnant students. The Fix also asked how many campuses provide abortion pills at the student health center and how many contract with or refer to abortion providers. Neither responded to multiple requests for comment over the past month.
Lawmakers who supported the bill pointed to the recent U.S. Supreme Court decision to overturn Roe v. Wade and the need for abortions as reasons for the new requirement. In an April joint statement, state Assembly leaders said the law will ensure "college students have access to care that will allow them to continue their education."
"Medication abortion provides a safe, noninvasive, effective way to end pregnancy with a less than 1 percent rate of complication and near 100 percent rate of effectiveness," they said.
But Sterlace said the law lacks important considerations, including basic medical safeguards and resources for pregnant and parenting students who choose life for their unborn babies.
"Ultimately, it is tragic in requiring healthcare services" to provide abortion pills to students, she told The Fix.
Sterlace said state law does not require an ultrasound before a medication abortion, which places at-risk women in a dangerous situation. Ultrasounds are used to detect potential complications and determine the gestational age of the unborn baby.
The FDA recommends the abortion drug mifepristone up to 10 weeks gestation, and, according to the drug label, the risks can be fatal to the woman, including infections and bleeding.
Sterlace told The Fix another problem is New York does not require abortion providers to tell patients about the risks of abortion, which deprives women of necessary agency that allows them to make an informed decision.
Further, because state lawmakers made abortion pills so easily available, she expressed concern for victims of domestic violence or sex trafficking who are often forced or coerced into aborting their unborn babies.
Additionally, in financing the campus directive, Sterlace said lawmakers are detracting from funds that could be used to aid families in need. For example, money could be used instead to provide diapers or other services to help mothers and babies, she said.
Sterlace said her organization advocates against abortion and for better resources to help families in need, including child care, housing and paid parental leave.
In 2019, California was the first state to pass a law requiring public colleges and universities to provide abortion pills on campus. The legislation went into effect in January.
Massachusetts passed similar legislation in 2022 requiring its public colleges and universities to provide students with access to medication abortions either on campus or through a referral.
MORE: Pro-lifers work to stop chemical abortions at UMass Amherst
IMAGE: Fizkes/Shutterstock
Like The College Fix on Facebook / Follow us on Twitter