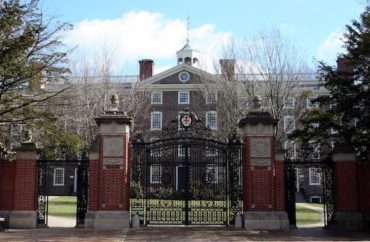 'Instances of harm' will also be dealt with
An Ivy League university is seeking to deal with violence on its campus by using "transformative justice" and "accountability" instead of "punitive" measures. The university, however, will not specify how this approach will work, refusing to respond to multiple requests for clarification on the matter.
Brown University recently hired a "transformative justice program coordinator" in order to "address violence and instances of harm [on campus] through accountability and healing rather than punitive or legal measures." The new coordinator, Dara Kwayera Imani Bayer, told The Brown Daily Herald that the position uses "indigenous teachings" to assist students in conflict resolution.
According to The Herald, Brown University already uses a transformative justice approach "in some contexts" on campus, particularly gender-based violence. Some students, the paper reported, "noted a gap in University resources to address conflict and harm through a non-punitive and more holistic approach."
The College Fix reached out to both Brown's media relations department and Bayer to ask how exactly the new position will function on campus. The Fix also sought specific examples of Brown's using transformative justice to address gender-based violence, and whether or not the university will be changing any of its internal policies regarding violence given Bayer's new position.
Brown's media relations department did not respond to three separate emails seeking comment. Reached via phone, a representative of the office told The Fix that a request for comment would be passed on to public relations staff. Nobody from that office responded further.
Likewise, Bayer did not respond to multiple emails requesting comment on her new position. Brown's online directory also lists her as the vice president of campus life & student services.
Teen Vogue describes transformative justice as "a way of addressing an individual act of harm that relies on community members instead of the police, the law, or the government."
Students will be trained in transformative justice
Bayer plans to have a yearlong "Transformative Justice Practitioner" program for a cohort of about ten students this semester. The cohort will "work to better understand the nature of harm within their communities and relationship networks. They will also explore how their communities envision justice and accountability," The Herald reports.
In the spring, students will "begin an apprenticeship program guided by what they learned in the fall."
The Herald reported that Brown senior and former vice president for the Undergraduate Council of Students Camila Pelsinger spearheaded a yearlong effort that led to the new position, beginning with "a set of focus groups and informal conversations" that "explored existing resources on campus and their capacity to introduce more community-based mechanisms of addressing instances of harm and violence."
Following approval from the provost's office, a search committee for the new position was formed consisting of Pelsinger and numerous other university officials. That committee eventually recommended Bayer for the position.
Pelsinger, who did not respond to multiple emails last week, wrote in an op-ed for The Herald that when she ran for the vice presidential position, she did so with the intention of "wanting to create alternative systems of healing and accountability for those in our community who have experienced harm."
She added that she hoped the coordinator position would "protect people from re-experiencing harm" and from "needing to live with the guilt that because they didn't report something … someone else is being harmed."
MORE: Colleges train, pay students to become social justice advocates
MORE: Baylor University funds program promoting social justice among preteens
IMAGE: Anthony Ricci / Shutterstock.com
Like The College Fix on Facebook / Follow us on Twitter