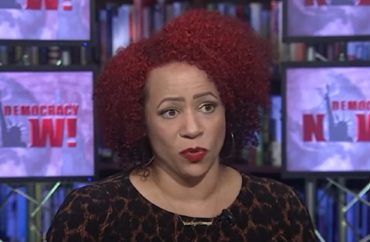 Refused a tenure offer from UNC to head to Howard
Critical race theory and journalism scholar Nikole Hannah-Jones will teach one course this fall as a tenured professor at Howard University.
Called "The 1619 Project," her course appears focused on the initiative she led at the New York Times in 2019 to retell the story of American history through the lens of slavery.
The New York Times project has drawn widespread criticism from historians for falsely claiming colonists fought the American Revolution to preserve slavery, as well as other assertions.
She will teach the three-credit course with Deanna Hayden, a doctoral student at Howard.
The College Fix filtered the other departments in the university's course catalog to see if Hannah-Jones is teaching another department's course in the fall, but she is not.

Last year, she rejected an offer for a tenured position at the University of North Carolina at Chapel Hill.
The Fix reached out to Hannah-Jones' spokesperson, Charles Yao, via email on August 22, but The Fix received no response. Hannah-Jones posted a screenshot of The Fix's email to Twitter on August 22.
"You know you that bish when you cause all this conversation," the professor wrote, in response to a College Fix media request from a student reporter.
You know you that bish when you cause all this conversation. Imagine minding this private school's business about what I'm doing w the $20 million *I* raised. If you want to know what I'm teaching, Rachel, enroll at the Mecca! Also, Google is your friend. https://t.co/FsEV3JhrRD pic.twitter.com/lrYNMazC7N

— Ida Bae Wells (@nhannahjones) August 22, 2022
Bish is a slang term for "bitch," according to dictionary.com. The website also says it could be used as a friendly term.
She posted the tweet the same day The Fix requested comment.
The news release cited by Hannah-Jones says she "has called attention to the need for historically informed investigative journalism that meets with urgency the threats to our democracy and for broader representation among the nation's investigative reporters."
Howard University's Center for Journalism & Democracy, which Hannah-Jones leads, has just hired a new director, Kali-Ahset Amen. The group says that one of its goals is to create more college courses and professorships.
"The center will create and support investigative journalism courses as well as visiting professorships that bring working professionals into the classroom," the news release stated. "With the center, Howard University will become one of the few journalism programs nationwide to offer a slate of courses with an investigative focus."
"The center will also fund investigative reporting courses at other [historically black colleges and universities], as well as provide financial support for student journalists and student newspapers at historically Black colleges and universities," according to the media announcement. It will also "support journalism faculty, and train students and professional journalists."
Howard University declined to comment after The Fix reached out twice via email in the past two weeks to ask if the 1619 Project author will be teaching more courses after the fall.
MORE: New York Times makes 'clarification' to 1619 Project
IMAGE: Democracy Now/YouTube
Like The College Fix on Facebook / Follow us on Twitter