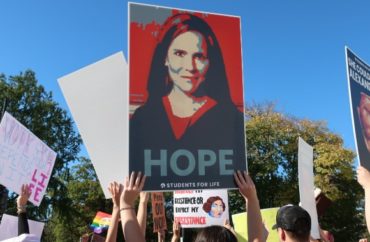 University press employees should value the publication of Barrett's book
As the annual University Press Week draws to a close, leaders at prominent academic publishing centers might ask themselves whether the values championed by their community are compatible with a call to cancel the book of a writer whose work they oppose, namely, Supreme Court Justice Amy Coney Barrett.
University Press Week is a celebration of the work of publishing houses associated with universities, featuring virtual and in-person events by authors, according to its website.
Ten employees of some of those publishing houses signed an unsuccessful petition calling on Penguin Random House to "reevaluate" its decision to publish Barrett's forthcoming book in light of her role in overturning Roe v. Wade in June.
Signatories included Shardai Smith at Princeton University Press, Monique Laban at Columbia University Press, Richard Tonachel of Harvard University Press, and Northwestern University Press's Courtney Smotherman.
These petitioners and more than 700 others wrote that they were "not calling for censorship" of Barrett's book, and they did not oppose its publication because they disagreed with the author. Rather, they objected to Barrett's payment by Penguin Random House on the grounds that a publisher should not "fund her position at the expense of human rights," according to the petition.
Barrett received an $2 million advance for her book in April 2021, according to Politico. So it's certainly conceivable, though not self-evident, that those funds helped keep her body and soul together on the bench.
But whatever one thinks of Barrett's alleged human rights violations – and over 40 percent of Americans agree "somewhat" or "strongly" with the Dobbs v. Jackson Women's Health Organization ruling that the issue of abortion should be returned to the states, according to the Pew Research Center — a publisher's role is to evaluate the content of a manuscript. It's not its job to stand in judgment over how its author uses their compensation.
"The Association of University Presses advances the essential role of a global community of publishers whose mission is to ensure academic excellence and cultivate knowledge," according to its website. Policing the expenditures or activities of its authors does not align with that mission.
Separating an author from his or her actions is a principle too often forgotten in our era of cancel culture, but it allows people of all views to locate and celebrate wisdom wherever they find it.
If we were to ban books by authors whose decisions we disagree with on the grounds that our support funds those decisions, we'd be left with an intellectual world with considerably less knowledge and academic excellence.
Whatever one makes of Barrett's rulings, she's undeniably an exemplar of knowledge and excellence. Barrett attended Notre Dame Law School on a full scholarship, served as executive editor of the school's law review, and graduated first in her class, according to her bio on SCOTUSblog.
She taught at George Washington University Law School and joined the faculty of her alma mater, Notre Dame, where she was named "distinguished professor of the year" three times. She went on to serve on a federal appellate court covering three states, and she advanced in 2020 to the highest court in the country, perhaps the most influential in the world.
Even more, she somehow balanced this extraordinary career with mothering seven children alongside her husband of 18 years, her bio states.
Barrett has had it all, and she's been hired to write a book about it.
The theme of University Press Week this year is "Next UP," which refers to the press community's efforts to "seek out, engage, advance, and promote the latest scholarship, ideas, best practices, and technology," according to the event website.
Barrett surely has good ideas and practices to share, including on "how judges are not supposed to bring their personal feelings into how they rule, according to three publishing industry sources," Politico reported.
Publishers attempting to cancel her would deprive themselves of the opportunity to learn what she has to teach us.
MORE: Liberal Harvard law prof: 'Amy Coney Barrett deserves to be on the Supreme Court'
IMAGE: DCStockPhotography/Shutterstock
Like The College Fix on Facebook / Follow us on Twitter