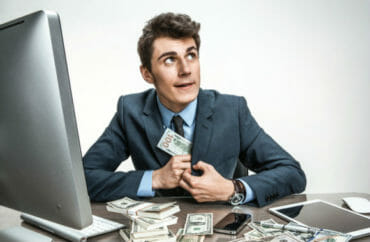 UPDATED
Twitter troll had suggested 'large-scale confrontation' at event
Philadelphia's Antifa movement and Twitter trolls tried to spook the University of Pennsylvania when conservative student groups invited a prominent conservative activist to campus.
They threatened to throw "coyote urine" and an "overripe tomato" at Candace Owens (below), the "Hitler admiring" communications director for Turning Point USA. Flyers advertising the event were removed or covered by antagonists.
A research scholar at Penn's prestigious Annenberg School for Communication, Sébastien Mort, called the black activist a "[r]acist propagandist, white [nationalism] enabler & viral deception agent."
An unofficial Twitter account for Philadelphia's Industrial Workers of the World said "the community has organized to shut down this engagement early" and called a "large-scale confrontation … inevitable. We consider TPUSA to be a threat to our city."
The account posted phone numbers for President Amy Gutmann and Chief Diversity Officer Joann Mitchell. The school initially obliged to the heckler's veto, telling Owens' student hosts to pay security fees.
The heckler's veto worked as planned. The protest presence was small, but the UPenn Statesman and College Republicans were poorer, for no reason.
That changed on Wednesday, when the College Republicans confirmed the administration wouldn't charge a security fee.
Owens' appearance at Penn Monday night marked her first appearance at the Ivy League institution. It was preceded with numerous online taunts, threats and mobilization of a "noise demo/dance party" from Philadelphia's Antifa.
The increased security presence was for naught: Between 20 to 30 Antifa protesters showed up.
Students in the sponsoring organizations weren't so lucky. A member of one of the groups told The College Fix Sunday that some members "have started getting doxxed" by protesters.
Exactly how much Penn was requiring the sponsors to pay in security has been in doubt since this article was initially published April 16.
Statesman President Sydney Gwinn told The College Fix Monday night that it was $800, but later called that figure incorrect. She declined to specify a different figure or whether the sponsors were still negotiating the fee with Penn.
A spokesperson for Penn did not respond to a Fix request Tuesday for the exact figure, or whether Penn was still negotiating with the sponsor, after Gwinn said the $800 fee was incorrect. The College Republicans informed The Fix Wednesday that the fee was waived.
Round of applause for detractors who came to hear her views
Upon entering the event, Owens tweeted her encounter with Antifa protesters. They greeted her with boos, vulgarities and megaphone sirens. What the protesters lacked in presence they attempted to make up in volume.
Owens spoke to a maximum-capacity crowd in College Hall that was, surprisingly, mostly filled with supportive students. They gave her a standing ovation as she entered the hall.
In contrast, the audience for a similar event with "War on Cops" author Heather Mac Donald in February was largely hostile to the conservative speaker.
Owens plans to have "a conversation about what it is I actually believe in – which the media does not want anybody to know."
Possibly alluding to mainstream media coverage of her widely distorted remarks on Adolf Hitler and nationalism, Owens continued: "But you guys have been intelligent enough to know that the media does not always tell the truth."
She riffed on a protest sign that she saw outside the venue that said "Racism still exists."
"Of course racism still exists," Owens said, but it comes from all ethnic groups against all people. It's not exclusive to any one race, ethnicity or group against any other.
The black community has real problems but the leftist narrative routinely "keeps the conversation about slavery," Owens said. The media routinely twist her words, she continued, using herself in the third person: "They say Candace doesn't think racism exists because she's never been a slave."
MORE: Antifa, others threaten Owens ahead of Penn event
Antifa is here!! Enjoy this video of the neo-KKK stalking and harassing me as I try to invite a group of peaceful black students into my event at UPENN.
The Democrat's domestic terrorist arm strike again!

Too bad we will NEVER BACK DOWN. WE WILL BE FREE. #BLEXIT pic.twitter.com/qAps4vDNUZ

— Candace Owens (@RealCandaceO) April 15, 2019
Owens emphasized in a recent congressional hearing about hate speech that her grandfather, who attended the hearing, grew up on a sharecropping farm under Jim Crow. "He grew up in an America where words like 'racism' and 'white nationalism' held real meaning," she told the House Judiciary Committee.
She also told the Penn audience about her Blexit movement, which encourages African Americans to leave the "political orthodoxy" of leftism, as well as her talk show on PragerU.
Owens spent much of her speech emphasizing that she wants to have conversations with her detractors. She asked audience members who disagreed with her to raise their hands, then offered them a round of applause for showing up to hear an unfamiliar political side.
The few hecklers who tried to interrupt were foiled when Owens defused their intentions with her assertiveness.
For example, when a student attempted to challenge her claim that America was the greatest country in the world, Owens interrupted him back. "Are you trying to 'Newsroom' me?" she asked, referring to a scene in the HBO drama where the lead character gives an impromptu speech denying America's greatness. "Do you think I don't watch TV?" she asked the questioner.
When a group of students started to boo her, Owens attempted to de-escalate. "Don't do that," she told the group. "We are trying to have a conversation. If you disagree with me, that's fine, but ask me a question. Be respectful of everyone in here."
Other than some tense moments during the question-and-answer session, where Owens' detractors took on her arguments, the event ran more smoothly than did the Mac Donald event in February.
University law enforcement officials had a significant presence at the event. They guarded Owens as she engaged with protesters outside the venue. Additionally, Penn had "free speech" monitors who informed protesters that Owens was allowed to speak freely.
Dear Antifa,
The year is not 1960 and I am not Ruby Bridges.
Your threats of violence do not scare me. I will be walking through the front door of UPENN today with my head held high.

You racist white Democrats didn't win back then—and you won't win now. https://t.co/mST9EQaAq6

— Candace Owens (@RealCandaceO) April 15, 2019
EDITOR'S NOTE: The author is the vice president of the UPenn Statesman.
UPDATE: The headline and sections of the article related to the security fee have been updated a second time to reflect the College Republicans' confirmation that Penn had waived the security fee following The Fix report Tuesday. The article was previously revised because the president of the UPenn Statesman disputed how much Penn required the sponsors to pay in security fees. She did not specify a new figure or clarify whether the sponsors were still negotiating with the university on the fee. 
MORE: Penn students offer 'safe space' from Heather Mac Donald
IMAGES: RomarioIen/Shutterstock, Christopher Tremoglie
Like The College Fix on Facebook / Follow us on Twitter