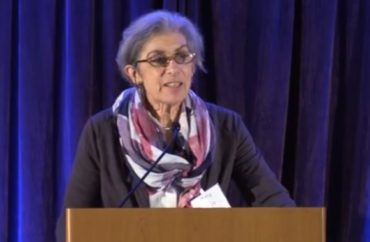 Also mandatory sensitivity training
The student government at the University of Pennsylvania recently passed a proposal calling for the firing of Amy Wax, a professor at the university's School of Law, over controversial comments she has made over the past few years.
The Undergraduate Assembly said the school should fire Wax for "violating University policy," The Daily Pennsylvanian reports. The unanimous resolution also "urges Penn to require annual sensitivity training for all Penn employees."
Wax has generated controversy and headlines in recent years following numerous provocative statements and arguments. In 2017 she wrote in an op-ed column that "not all cultures are created equal." The school removed her from teaching mandatory courses after she claimed to have "[never] seen a black student graduate in the top quarter" of a Penn Law School class. At a conference this summer, she made remarks about immigration that some writers said were white supremacist.
Now the student government is calling on the university to "terminate Amy Wax's tenured status and any other affiliations with the University:"
The UA alleges that Wax's comments violate a principle of the University's Handbook for Faculty and Academic Administrators. The group highlighted Section II.E.16. Procedure Governing Sanctions Taken Against Members of the Faculty, which states that faculty are barred from engaging in "discrimination on the basis of irrelevant characteristics."

"The University shouldn't be associated with someone who has made such hateful and marginalizing statements," UA President and College senior Natasha Menon said.

The resolution was co-signed by several cultural groups, including the Asian Pacific Student Coalition; the Assembly of International Students; Lambda Alliance; Latinx Coalition; Penn Association for Gender Equity; Programs for Religious, Interfaith, and Spiritual Matters; UMOJA; and the United Minorities Council.
Regarding the proposed workshops, the resolution stated that they should "cover topics including, but not limited to, respect for students' diverse backgrounds, professionalism when interacting with students, and bias combating."
MORE: Petition calls for firing of controversial Penn Law professor
Like The College Fix on Facebook / Follow us on Twitter