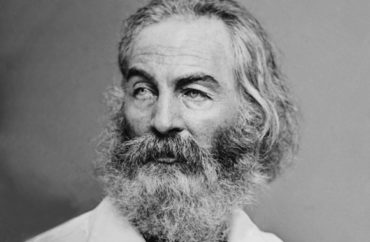 A statue of Walt Whitman, one of America's most famous and influential poets, has come under fire at Rutgers University-Camden, where a petition demands his statue be removed.
The statue, featured prominently in the center of campus, pays homage to the author of the seminal work "Leaves of Grass," as the poet lived in Camden upon his death in 1892 at age 72.
But the artist, sometimes called the "Bard of Democracy" whose poetry praised the American experiment, also held racist notions about African Americans, and for that some want the statue removed.
The petition states that "Rutgers-Camden has been making efforts recently to remove symbols around our campus which continue to perpetuate a racist past," adding "the statue of Walt Whitman glorifies a man who we should not hold such a place of honor on our campus."
"Our school encourages inclusion, diversity, and equity while Whitman stood for none of those things. He instead stood for white supremacy and racism against Black and Indigenous Americans," states the petition, which has garnered 3,724 signatures as of July 22.
Now they're trying to remove a Walt Whitman statue. pic.twitter.com/265gVK2EW5

— Mark Hemingway (@Heminator) July 7, 2020
An update posted by the author of the petition states that the Office of the Chancellor of Rutgers-Camden has seen the petition and is creating a committee to address social justice issues on campus.
The College Fix reached out to Michael Sepanic, Rutgers-Camden's associate chancellor for external relations, who confirmed via email the committee is in the process of being structured.
In early June, hundreds of Rutgers-Camden campus members signed a statement denouncing "white supremacy and anti-black racism, which have been foundational to the modern world and the U.S. in particular, as primary movers in the drama that produced the death of George Floyd."
As for Whitman's racist beliefs, they have not been lost on observers, and some on both the left and the right have debated whether the poet should be cancelled because of them.
July 31st:#Whitman, #Race, & #Racism", a #discussion with Distinguished #Scholar & #Professor Ed Folsom, Ph.D. This event focuses on #WaltWhitman, a #CivilWar era #Poet of #Democracy, #Blackwriters responses to him, and the Whitman #statue at #Rutgers. Register Link in our bio🦋 pic.twitter.com/9Ba15C9DuW

— Walt Whitman Birthplace (@wwbirthplace) July 20, 2020
Asked to weigh in on the controversy, Kelly Scott Franklin, a professor of English literature at Hillsdale College and a scholar of Whitman, said the poet deserves to be remembered and studied despite the fact that he "held some of the usual bad nineteenth-century ideas about race, and used racist language sometimes in his conversations."
Franklin said Whitman, like all human beings, was flawed.
"I think our job as scholars, teachers, historians, and students is to understand the people and books and ideas of the past on their own terms–as they really are. Then we can choose to embrace the truth and discard error," he said via email to The College Fix.
Franklin said there's a bigger idea at play as well.
"What this new movement of censorship really wants is to do away with the very act and process of education, because education is complicated and it's hard work. It requires a lot of sifting to find beauty, truth, and goodness," he said. "It requires compassion and a willingness to try to see the world as others did in their time and place. It requires acts of magnanimity toward flawed and wounded human beings, even if we disagree, and even if they're in grave error. Those activities are hard–in the classroom and in everyday life. So it's much simpler just to silence, cancel, and destroy."
"Ultimately, the advocates of censorship will leave us with no statues of anyone. Because if you have a statue of a human being, that human being is going to be just like you: a flawed and imperfect person."
An alumnus of Rutgers University-Camden has also weighed in, posting on Facebook that the effort to remove the statue is part of "cancel culture."
"The Cancel Culture theory is that if a person does an evil thing, all of the good things that they have done should be obliterated. It doesn't matter how much good they have done because any evil action makes them and everything that they have ever done totally anathema. So, 'Leaves of Grass' must obviously go to the trash heap," wrote alumnus Walt Lyons, tagging the university in his comments.
"I don't buy this and no one else should either. If Whitman said things that were racist, that should be known and acknowledged as evil," Lyons added. "But he was not totally evil, he was a great person and great author. He should not be made an un-person and his statue and books should remain on the Rutgers Camden Campus." 
MORE: Marquette's seal accused of erasing Native Americans in favor of white explorer
IMAGE: Walt Whitman / Everett Collection
Like The College Fix on Facebook / Follow us on Twitter