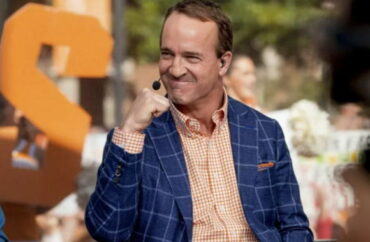 Peyton Manning is returning to his alma mater — but not as a gunslinger — this time around he'll lead students instead of teammates.
The University of Tennessee, Knoxville has announced the NFL Hall of Famer will work as a professor of practice in the College of Communication and Information for the fall 2023 semester.
Manning will "teach a variety of topics that align with the college's curriculum including sports reporting, video production and performance, leadership and communication, and public speaking," the university stated Monday.
Manning graduated from UT in 1997 with a degree in speech communication after leading the Vols to an SEC football championship, the university stated in a news release.
His post-NFL playing career has included serving as a prolific sports pundit on TV and also launching the entertainment company Omaha Productions, which "focuses on developing content that champions hard work, encourages the pursuit of passion and celebrates community," it stated.
"Manning, 47, is arguably Tennessee's most famous alum. During his four years with the Volunteers, from 1994-97, Manning tossed 89 touchdowns against 33 interceptions. Tennessee won at least 10 games in his final three seasons with the program, including its first SEC title in seven years in 1997," The Messenger reported.
For Manning's part, he stated he looks "forward to working with the college's talented faculty and directly with students in an effort to ensure they are well prepared for their future careers."
As The College Fix has previously reported, typically it's failed politicians who head to the classroom to teach, such as Hillary Clinton, Stacey Abrams, Lori Lightfoot and Beto O'Rourke.
MORE: U. Tennessee sports reporter ousted after 'ni**a' tweets from her teen years surface
IMAGE: University of Tennessee
Like The College Fix on Facebook / Follow us on Twitter