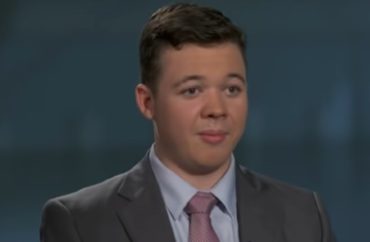 Fundamentally misunderstands how prosecution works
Editors with The Pitt News blamed a "technicality" and "loopholes" for Kyle Rittenhouse' acquittal in the shooting of three men, two of whom died.
In its editorial, University of Pittsburgh's campus paper shows a fundamental misunderstanding of how the criminal justice system works.
"The trial of Kyle Rittenhouse ended with him walking free on essentially a technicality," the editors wrote. "Even after shooting three people at a racial justice protest last summer with an AR-style semi-automatic rifle, Rittenhouse was acquitted on all charges earlier this month because of vague self-defense laws."
It is not a technicality when Rittenhouse is able to justify that he had a legitimate fear for his life and could legally use an AR-15 to stop three men from attacking him.
Nor is it "vague." It's also not a "loophole in the self-defense legislation" that "allowed Rittenhouse to walk free," as the editors opined. Wisconsin legislators have established clear standards for when someone can use physical force in self-defense and what the laws are for possession of a gun.
The board also contradicts itself in two consecutive sentences. "Laws around self-defense need to be clearer," the editors said. "Gun legislation should be set in stone, not something that can be easily maneuvered around."
MORE: ASU leftists want remote student Rittenhouse gone from campus
The law is set in stone and the purpose of self-defense laws are for people being attacked to understand their rights.
Furthermore, the burden of proof is on the prosecution to prove that Kyle Rittenhouse acted unlawfully in the use of a firearm.
Here's again where the editorial board said self-defense laws should be designed to protect "people."
"Self-defense legislation should be for the protection of the people. People shouldn't fear that they will be killed at any time by a gun and that their killer will walk free because of loopholes created to make the NRA money," the paper said.
People? What do they think Rittenhouse is?
The editorial board doubled down on the alleged lack of clarity in the laws, saying that self-defense statues "are notorious for being vague and give people an easy-out after killing someone."
The campus paper editorial board also said that there should be "federal legislation that makes self-defense laws crystal clear and eliminates loopholes," blaming the boogeyman National Rifle Association.
But if the NRA has a tight grip on Congress, wouldn't any federal legislation only expand self-defense, Castle doctrine and related use of force laws?
The newspaper editors may, in a way, soon get their wish, as Florida Republican Congressman Matt Gaetz said he plans to introduce a national Stand Your Ground bill.
MORE: Harvard paper said Trump supporters endorse 'white supremacy'
IMAGE: Fox News/YouTube
Like The College Fix on Facebook / Follow us on Twitter