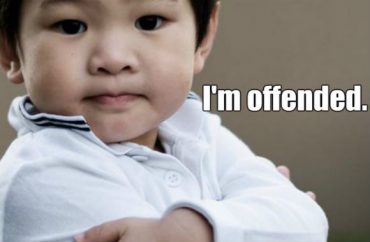 A student at Rhode Island's Bryant University took advantage of an "open mic" night last Thursday to do a stand-up comedy act, but it appears the young man forgot who his audience was.
Apparently the young man has never read advice from the likes of Chris Rock and Jerry Seinfeld: that overly politically correct college students just cannot handle certain topics.
Matthew Caruso, founder of a Bryant U. group "Woke Athletes" (which "promotes diversity on campus") is one such student, it seems. He shot a video of the wannabe comedian in action and posted it on Facebook and Instagram — which "fueled hundreds of comments" from people, including those in the Bryant administration.
One commenter on Facebook asked "Is there a number to call so people can report this?"
The truncated video does not show the act in its entirety:
As reported by the Providence Journal, the student comedian says at one point "I'm just jealous about the fact that black people are allowed to physically assault their children and I'm not. Can you imagine if a white person beat their kid? The whole country would grind to a halt."
Shortly after these lines, a student steps onto the stage and attempts to take away the microphone. Two others follow, with one grabbing the mic … indicating the act was over.
Bryant's Bias Incident Committee reviewed a video of the act Friday afternoon and determined that a "bias incident did occur," said Bryant spokeswoman Cecilia A. Cooper.

The committee continues to gather additional information, including parts of the act that were not captured on video, and accounts from witnesses, Cooper said. The committee will meet again Monday.

The panel, said Cooper, will submit its findings to the university's vice presidents of student affairs and human resources.

On Friday, Bryant's president, Ronald K. Machtley, issued a message to the university's community, saying that he found the message offensive.

He congratulated the students who interrupted the performance and brought it to an end.
The open mic night was sponsored by the Bryant radio station in conjunction with the Student Programming Board. The latter called the student's act "offensive and racist."
MORE: Comedian yanked off stage at Columbia speaks out
MORE: Bryant U.  plans 'educational conversation' after student quotes 'popular song'
Like The College Fix on Facebook / Follow us on Twitter