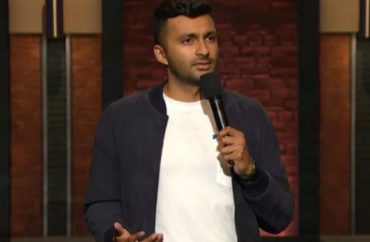 Nimesh Patel was recently yanked off stage during a performance at Columbia University after telling a joke about a gay black man from Patel's neighborhood. In the joke, Patel claimed that homosexuality for blacks couldn't possibly be a choice, as "no one looks in the mirror and thinks, 'this black thing is too easy, let me just add another thing to it.'"
The joke bombed in front of the uptight crowd of woke Ivy Leaguers, despite the fact that technically it points out the oppression minorities face. Go figure. But his gig was cut short after the joke. One student later accused the Patel of "blatant anti-blackness." Huh?
The comedy writer for "Saturday Night Live" is now speaking out about the controversy. Writing in the New York Times, he points out "this particular joke has worked at New York clubs full of gay people, black people and college students multiple times. I didn't think twice about using it in a room full of smart, progressive young adults."
But comedians should think twice about performing for oversensitive college students. For years now The College Fix has chronicled the mass exodus of comedians who refuse to play campuses anymore. Everyone from Chris Rock to Jerry Seinfeld have sworn off the university venue.
Now Patel wishes he could too. Problem is, he says, he needs the money.
"I walked offstage, silent and angry. I was in shock. On the car ride down to another show, every cliché about college kids today was churning through my mind: Are these college students really this soft? What has become of the coddled mind! Everyone's so easily offended! Jerry Seinfeld was right when he said a few years ago that college kids 'don't know what the hell they're talking about.' If I could afford not to perform at colleges again, I would have stopped thinking there," Patel wrote.
He added that while student organizers were within their rights to pull him offstage, he was within his rights to say whatever he wanted.
"I believe the student leaders were wrong to cut my mic, but as a person, I cannot control how people think and how they react."
"… When you silence someone you don't agree with or find offensive, not only do you implement the tactic used by the people you disdain; you also do yourself the disservice of missing out on a potentially meaningful conversation. You cannot affect change if you are not challenged," Patel wrote.
The silver lining in this entire fiasco is the fact that many students reached out to the comedian to express their disagreement with their peers.
"After I was forced offstage, something unexpected happened: Notes of support flooded in. Students apologized via email and via Instagram DM. They told me: We're not all sensitive people; we can take jokes; you shouldn't have been pulled offstage, that was wrong. Three Columbia students even came to my next show to apologize in person," he wrote.
As is all too often the case, the vocal minority forced its will on the silent majority. As for the fate of comedy on campuses, that remains to be seen. It's an uphill battle for sure. Political correctness has suffocated humor on campuses, and there's no resurrection in sight.
MORE: How political correctness drove away comedians from campus
IMAGE: YouTube
Like The College Fix on Facebook / Follow us on Twitter