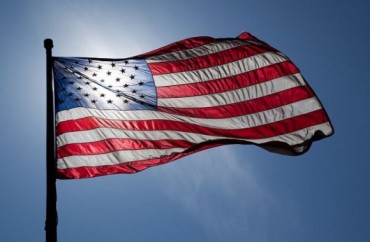 A recent poll shows that the number of young Americans who consider themselves to be "patriotic" has substantially decreased over the last 18 years.
The numbers may look good at first: Sixty-three percent of those between ages 18-29 say they're "very patriotic" or "somewhat patriotic"; in 2002, however, that figure was 89 percent according to NewBostonPost.
(Of note: That latter Harvard University Kennedy School of Government Youth Poll was taken shortly after the September 11 terror attacks.)
The political divide in the current poll is striking, too: Fifty-six percent of Democrats in the same age range identify as "very patriotic" or "somewhat patriotic," while the figure for Republicans is a whopping 30 points higher (89 percent).
Independents' patriotism was slightly below that of Democrats, at 54 percent combined.
Harvard College freshman Katie Heintz, who worked on the poll, said Republicans are "far more likely to associate patriotism with positive attributes" — "loyalty," "pride," and "responsibility" — while Democrats link it to "things like racism, xenophobia, and ignorance."
The poll also found the percentages supporting capitalism, socialism, and "democratic socialism" to be similar to those of 2018, at 45, 30, and 40 percent respectively.
[Harvard Institute of Politics pollster John] Della Volpe said the young people surveyed and interviewed in focus groups report high levels of anxiety, driven by the coronavirus emergency but also other factors, including fear of the future.

"A good day for them is when they have enough money in their pocket to afford to go to the therapist, on a given week," Della Volpe said. "That's what a focus group in New Hampshire told us."

As for the presidential race, the results look similar to what the poll found before the last presidential election in 2016.

Presumptive Democratic nominee Joe Biden leads President Donald Trump by 30 points – 60 to 30 percent – among those ages 18 to 29 surveyed who said they are likely to vote.

In April 2016, the same poll found Hillary Clinton leading 54 to 28 percent among the same age group, and 61 to 25 percent in July 2016.
Past Institute of Politics polls have shown the youth demographic dislikes President Trump but approves of his policies, and trust college administrators more than the military. The group also liked Libertarian presidential candidate Gary Johnson as much as Donald Trump in 2016.
MORE: College graduates feel less patriotic than non-college graduates: survey
MORE: Lecturer worries a UK-developed COVID-19 vaccine will increase patriotism
Like The College Fix on Facebook / Follow us on Twitter