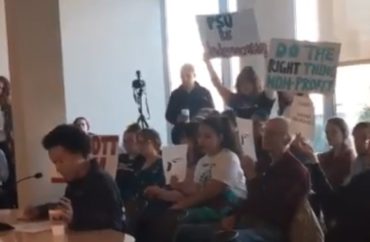 But they will now undergo 'annual antiracism and multiculturalism trainings'
It appears that #DisarmPSU has been an abject failure.
Portland State University decided to increase the number of armed police on its downtown campus following four years of student protests against the policy.
Not even the shooting death of a black man outside a campus bar by PSU police could sway the public university to disarm its police, though that incident led the administration to commission two outside reviews of the policy. PSU was the largest public university without a sworn police force when it made the change in 2015.
The Oregonian reports that Stephen Percy, interim president, announced the decision at a packed three-and-a-half-hour meeting of the Board of Trustees, drawing boos, hisses and "shame" mutterings:
The university currently has six unarmed campus safety officers and six armed police officers. Percy told reporters those ranks will each grow by four.

Among the recommended reforms, which do not require board approval to implement, are better mental health treatments, a direct line of communication between Percy and a public safety oversight committee and regular anti-bias and anti-racism trainings, according to a copy of the plan provided to The Oregonian/OregonLive.
MORE: Student of color denounces #DisarmPSU for claiming to represent students
Officers will be thoroughly instructed in wokeness, however, to balance out the additional firepower.
All police, armed or not, will receive "annual antiracism and multiculturalism trainings, as well as "twice-annual refreshers on micro-aggressions and anti-bias policing," according to the newspaper.
They will also get annual training on the use of non-lethal force and "de-escalation techniques," though it's not clear those would have saved the life of Navy veteran Jason Washington.
It wasn't enough for some students and graduates who said they would boycott the university for not de-arming campus police, KOIN-TV's Lisa Balick tweeted.
PSU students and graduates announce a boycott of the school in response to Board decision to keep campus police armed #KOIN6NEWS #PSU #disarmPSU pic.twitter.com/64xSW9XeB6

— Lisa Balick (@lisabKOIN) October 10, 2019
A witness to last summer's fatal shooting said Washington ignored "multiple" warnings from cops not to reach for the gun that fell out of its holster while he tried to break up a bar fight involving his friend. (He had a valid concealed-carry permit.)
An in-depth analysis of bodycam footage by The College Fix revealed that Washington appeared to be extending his arm and holding a black object less than a second before police shot him. Contrary to media reports, he was not "walking away" from officers when they shot him.
A grand jury refused to indict the officers, sparking extensive campus protests last fall.
MORE: PSU gives cops guns to keep minorities down, activists claim
The administration is adopting a host of other measures intended to increase transparency and accountability around public safety, including the appointment of "10 student public safety ambassadors" and access to investigative records for the already existing public safety oversight committee.
Though several students told her they had been robbed and their cars broken into in campus parking structures, student body president Violet Gibson testified before the board that PSU should provide "relief" to non-members of the community who enter buildings without authorization.
This prompted nodding and favorable snapping from the audience, as did Percy's proposals to increase mental health offerings, according to The Oregonian.
Anti-police activism on campus had previously targeted students of color who support armed police because of the physical threats surrounding the downtown campus.
MORE: Student of color risks wrath of campus mob by defending cops
IMAGE: Lisa Balick/Twitter
Like The College Fix on Facebook / Follow us on Twitter