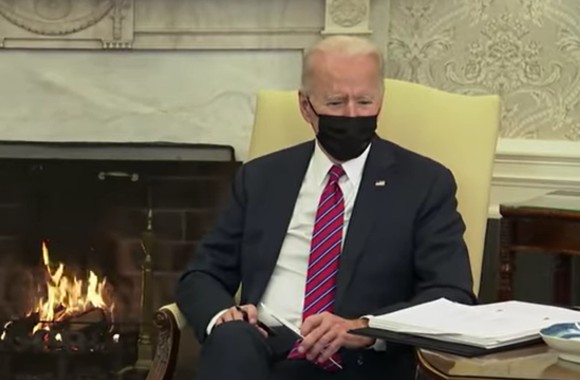 At least the second time he has said this since his election
President Joe Biden reiterated on Tuesday night that he does not believe he has the authority to cancel $50K in student loans by executive order.
Biden made the comments during a presidential townhall hosted by CNN.
"I'm prepared to write off $10,000 debt," Biden told a questioner, "but not 50…because I don't have the authority to do so by signing [an executive order]."
Biden stated in December a similar position. "I think that's pretty questionable. I'm unsure of that. I'd be unlikely to do that," Biden told a reporter during a media briefing in response to a question about cancelling student loan debt.
The statement by Biden comes as another blow to loan cancellation efforts from liberal politicians including Democratic Senator Elizabeth Warren of Massachusetts and New York Democratic Congresswoman Alexandria Ocasio-Cortez. They have been urging Biden to cancel (at least) $50K in student loans.
However, the president does plan to cancel $10,000 in student loans, as mentioned in the townhall and will ask the Department of Justice to look into the legal routes to make this happen.
"He doesn't favor $50,000 in student loan relief without limitation," White House Press Secretary Jen Psaki confirmed on Wednesday.
"Once his team is in place at the Justice Department…he will ask them to conduct a legal review of his authority to act by executive action in conjunction with a policy review from his Domestic Policy Council on how executive action debt relief, if any, should be targeted," Psaki said, according to Reuters.
The fight over cancelling student loans is likely to be an important one for Biden as he balances bipartisanship with a push from the liberal wing of the Democratic Party.
Many Democrats see the issue as a matter of fairness and economic opportunity. They argue that student loan debt holds people back from buying houses and starting a family.
However, an ample body of evidence exists that shows that student loan forgiveness primarily benefits wealthier individuals who have acquired degrees in high-paying fields such as medicine or engineering.
"These plans aren't about debt 'forgiveness,' they're about transferring that debt to others," Matt Beienburg, the Goldwater Institute's education policy director, told The College Fix in December. Debt forgiveness is about "giving a pass to the universities to continue ballooning the costs of college," Beienburg said.
MORE: How student loans are ruining higher education
IMAGE: The White House/YouTube
Like The College Fix on Facebook / Follow us on Twitter