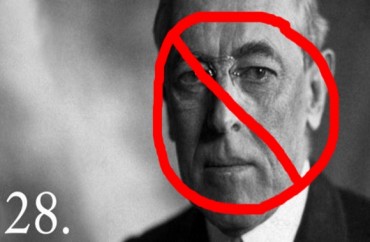 All it took was occupying a building for two days.
The president of Princeton University has essentially capitulated to demands made by "Black Justice League" student protestors who occupied the school's historic Nassau Hall – agreeing with their order that a mural of President Woodrow Wilson should be removed from a campus dining hall.
President Christopher Eisgruber said he believes the mural should be removed from the Wilcox Dining Hall, the school announced in a press release Thursday, adding campus leaders have initiated the process to consider removing the image of the 28th president of the United States of America from students' sight.
Administrators have also acquiesced to protestors' other demands, including to study renaming all buildings named after Wilson and then making a decision, the press release states.
Earlier this week, President Eisgruber told the Princetonian campus newspaper that he agreed with some of the students' points, that Wilson was a racist and the university should talk candidly about his legacy. However, the president reportedly disagreed with renaming the Wilson School and Wilson College.
Meanwhile, more caving to students' demands: Princeton administrators also agreed to create a safe space for students of color on campus, allocating four rooms dedicated to cultural affinity groups. Campus leaders also agreed to develop more diversity trainings for the campus community and work on another diversity requirement for undergrads, the release states.
As for the students who refused to leave the campus building they occupied? "No formal disciplinary action," officials announced.
The capitulations come on the heels of campus leaders earlier this week agreeing to scrap the tradition of calling the university's residential college leaders  "master," a title replaced with "Head of the College."
Like The College Fix on Facebook / Follow us on Twitter