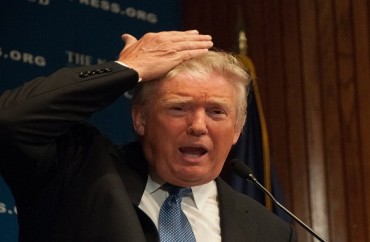 A North Carolina high school principal has been "replaced" after she forced a student to remove a Donald Trump baseball-style jersey.
The theme of last Friday's Harnett Central High School's football game was patriotism, yet somehow Principal Cindy Gordon thought the jersey was not appropriate for the theme.
WRAL reports Gordon told the student wearing the jersey that it was "causing parents to complain."
The student's father, Mike Collins (a registered Democrat), was miffed at how his son was treated. He says his son complied with Gordon's request and then went home because he "felt humiliated."
A father tells me his son was asked by the school principal to remove this jersey during a patriotic-themed football game after people complained. Dad, a registered Democrat, says his son complied but felt humiliated. @HarnettCoSchool says it supports expression not disruptions pic.twitter.com/W9U9v2vBLF

— Tim Pulliam (@TimABC11) October 10, 2018
"We don't want any kids violated. We don't want to see kids embarrassed over something like this," Collins said. "He was not disrespectful. He was not acting in a manner that would cause attention to him."
Yesterday, the school district announced Principal Gordon had been replaced.
"[W]e want to emphasize that Harnett County Schools supports and affirms students' rights to express themselves—including wearing clothing expressing political messages or supporting political candidates or officeholders—in ways that are not expected to disrupt school or school events.
More from The News & Observer:
[…] Collins told the news station that the high school's principal asked his 18-year-old son to remove the jersey because it was "too political" for some at the football game. …

The news release did not mention Gordon's name nor say whether she is now employed by the school system.

Tony Buzzard, an attorney representing the Collins family, told The News & Observer, "We're very pleased that the school board and the county were quick to resolve the issue."

Buzzard said the family wanted the board to recognize what had happened.

Asked whether the family might consider any further action, Buzzard said he's not sure. But he said Friday's announcement will influence their decisions moving forward.
MORE: Superintendent apologizes for 'Trump' banner at HS football game
MORE: HS students 'racist' due to chants of 'Trump!' at basketball game
IMAGE: Shutterstock.com
Like The College Fix on Facebook / Follow us on Twitter