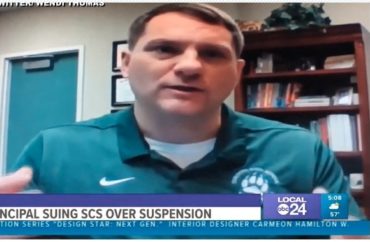 Superintendent told principals to talk about Capitol riot as 'teachable moment'
"I'm not going to tell you what to think, I just want to help you think," Principal Barton Thorne told Cordova High School students last month, a few days after the Jan. 6 riot at the Capitol.
His recorded video message, which plays weekly in homeroom, went on to explain the threat of social media platforms deciding who gets to speak. President Trump and many of his supporters had been removed from their accounts, and the competing social media platform Parler removed from its web host, in the wake of the riot.
Tennessee's Shelby County Schools quickly put Thorne (above) on administrative leave and opened a disciplinary investigation for "professional misconduct." Thorne's lawyers demanded the district immediately reinstate him and "publicly apologize for suggesting his actions were inappropriate."
A month after that warning, Thorne has filed a federal lawsuit against the district and Superintendent Joris Ray for violating his First and Fourteenth Amendment rights and employment contract, as well as inflicting emotional distress and damaging his reputation.
The principal was simply following Ray's directions to discuss Jan. 6 with students, the Jan. 25 warning letter says. The superintendent's email to staff suggested several educational resources, including a National Constitution Center lesson plan on structuring debate among students about "the importance of free speech on social media."
Shelby County Schools officials who received the warning letter – Ray, Director of Professional Standards Gerald Thornton and General Counsel Kenneth Walker – did not respond to a College Fix query Thursday asking for its response to the lawsuit and any earlier response to his lawyers.
MORE: Law prof suddenly removed after speaking at Trump rally
The Liberty Justice Center, which is representing Thorne, gave the district just two days to "enter into confidential settlement discussions" before it threatened to release the warning letter and file suit. It posted the letter, lawsuit and transcript of Thorne's Jan. 11 remarks Thursday.
Thorne has "languished for six weeks" on administrative leave "without any closure to his case," the suit claims: District officials have "lambasted his message in the news media while telling him to stay silent." He was addressing students by video because Shelby is the only school district in Tennessee still resisting in-person learning, the center's press release says.
The controversy over Thorne's remarks is partly based on his mention of the FBI siege on the Branch Davidian cult near Waco, Texas, in his recorded video.
He drew a line from today's Big Tech censorship to that event, where "a group of people decided that somebody who disagreed, who thought differently or looked differently from them needed to be filtered, needed to be reined in, needed to be controlled by somebody else."
In the press release, Thorne called himself "a career educator in a very diverse community" who is shocked at being removed "for speaking with students about the First Amendment."
He won't stay silent "any more than I would allow a student to be marginalized for sharing a perfectly reasonable point of view," he said: "The 'cancel culture' taking foot in America has now reached our schools, and I will not stand for it."
'What happens when you do not have dissenting opinions?'
It's not clear if Thorne's recorded video is still publicly available. A local journalist said she received the video from several people, though the YouTube link she shared is no longer active. A local news report includes several snippets from the video and credits that journalist.
The transcript released by the center makes clear the principal was somewhat winging the message. He misspoke occasionally, twice referring to McCarthyism as "McCarthyanism."
"I do not get into religion and I do not get into politics with my students," and "I am not a conspiracy theorist," he began, referring to the riot as "sedition."
What concerns him is "what's going on with Twitter and Facebook and Google and Apple, and their decision as private companies to filter and to decide what you can hear and know about." It's a mistake to think these tech companies simply took action against President Trump, Thorne said:
But think about totalitarian governments: think about North Korea, think about China, what makes those types of systems possible is the restriction and the elimination of the free exchange of ideas. And America, and in democracies, we talk about the marketplace of ideas. Well, what happens when the marketplace of ideas becomes a forced monopoly? What happens when you do not have dissenting opinions, when you do not have an exchange on competing ideas—how do you know if your ideas can stand on their own if there is no marketplace of ideas?
MORE: Academics, teachers pounce on Capitol chaos narrative
At this point he brought up the Branch Davidians, clarifying "I don't have anything for or against the Branch Davidians or David Koresh," their leader.
But Thorne warned that the federal government could one day come after his religious group if "a different group of people thinks that my religion is different, or funny, or should be brought into control, or should be filtered."
Students should be aware that "the ideas that you value" may be "shared by the people who are in power and filtering those people who are not in power" at this point in time, but it's "just one election or one moment away from now that being flipped," he said.
Social media platforms are "unilaterally" deciding what young people can and can't hear, "outside of the elective process," which "should be very chilling for you," the principal continued. "[I]f they can do that to a minority—or if they can do that to a powerful voice, it doesn't have to be a minority—what will stop them one day from
doing that to you?"
The phrase "cancel culture" or variants of it do not appear in the transcript, only in the center's press release and lawsuit.
'Arbitrary enforcement of vague and overbroad contract provisions'
The center's warning letter emphasizes that Superintendent Ray set the ball in motion for Thorne's comments by himself first tweeting about Jan. 6. "As our students witnessed this unrest, each of us needs to seize this as a teachable moment about the importance of civility and democracy," he said in a video (below).
Ray then told staff to "discuss January 6 and its aftermath" using several educational resources that touch on free speech, social media and the importance of allowing unpopular viewpoints.
One of them is New York City's "Civics for All" curriculum, which points teachers to Justice Oliver Wendell Holmes' dissent in the 1919 Abrams ruling that upheld severe legal restrictions on anti-government speech. The justice said the "best test of truth is the power of the thought to get itself accepted in the competition of the market."
Thorne repeatedly mentioned the "marketplace of ideas" in his video message, "directly drawn from a teaching resource that the Superintendent recommended" in the context of Jan. 6 discussion, the warning letter says.
His remarks also reflected many themes from the state's social studies standards, including the Bill of Rights, civil liberties and "factors that influence elections," such as social media.
MORE: Teacher under investigation for saying he was in D.C. Jan. 6
There is no better time than now to accelerate the pace of change. Dr. King put it like this, "We are now faced with the fact that tomorrow is today. We are confronted with the fierce urgency of now." https://t.co/D8JAXN1ocM

— Dr. Joris M. Ray (@SCSSuptRay) January 9, 2021
Ticking off grounds for investigation and punishment in the Employee Handbook, the center said nothing Thorne said was "irresponsible or untruthful … obscene, profane, or discourteous … harassing, discriminatory, or intimidating towards students or staff in his building … dangerous or disruptive," violated the teacher ethics code or "constituted
incompetence or improper conduct."
Thorne was not given "fair notice" that his speech on a "timely topic" in line with "accepted teaching standards" could get him in trouble, the lawyers warned: "Arbitrary enforcement of vague and overbroad contract provisions" is not permissible, especially when the district "permits numerous other teachers and administrators to speak on timely public issues without facing discipline."
Putting him on administrative leave so quickly is also out of step with the district's procedures, which give telling examples for swift removal: "sexual harassment, disorderly conduct, or other situations where the employee presents a potential threat to other employees."
Other district employees allowed to criticize Trump, praise progressive policies
The lawsuit emphasizes Thorne's deep roots in the school district, where he's served as "teacher, sports coach, assistant principal, vice principal" and now principal for two decades. He mentors new principals in the district.
Following his recorded video, which did nothing more than teach students in line with state standards, "one or several" employees, parents or students filed a complaint against him. This phrasing suggests Thorne has not been given the identity of his accusers.
District officials have not restricted their own speech about Thorne's video, even while telling him not to talk to the media, in violation of its own policies, according to the suit.
He claims that Thornton, the director of professional standards, told Thorne "he anticipated prompt dismissal" of the complaint, yet the principal has received "minimal communication and no administrative process for dismissal of the complaint.
Others in the district have faced no repercussions for speaking about "timely and controversial issues," including the superintendent, who celebrated last year's Supreme Court ruling in favor of the Deferred Action for Childhood Arrivals immigration program in a tweet. The district's own Twitter account celebrated Pride Month.
Employees repeatedly criticized Trump in tweets, explicitly or implicitly. A "communications strategist" for the district, Jerica Phillips, tweeted shortly after the election that "Authoritarianism is a form of government characterized by the rejection of political plurality." The innovation chief, Amity Schuyler, tweeted that a photo of the Confederate flag in the Capitol on Jan. 6 represented "[t]he sum of four years" of Trump's presidency.
Tweets such as these "are typical of the messages shared by SCS administrators and educators in their classrooms and other communications to students," the suit says: "The different treatment of his speech from these examples and other instances shows the viewpoint discrimination specific to his speech."
Thorne wants the court to find that the defendants violated his constitutional and contractual rights by suspending him and award him compensatory, nominal and punitive damages, plus attorney's fees.
MORE: Prof wishes for death of Trump supporters while studying 'intellectual humility'
IMAGE: Wendi C. Thomas/Twitter
Like The College Fix on Facebook / Follow us on Twitter