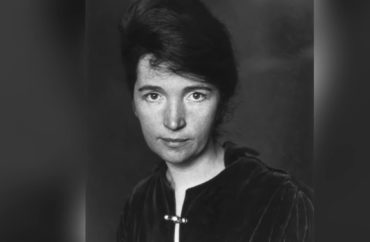 University has created a renaming committee
Students for Life of America wants Stony Brook University to rename a residence hall named for the founder of Planned Parenthood who also promoted eugenics.
The national pro-life group wants the public New York university to change the name of Sanger Hall, named for Margaret Sanger (right).
SFLA has repeatedly called attention to Sanger's racist legacy, but Planned Parenthood only recently acknowledged her legacy in a New York Times opinion piece.
SFLA and its advocacy arm, Students for Life Action, have promoted a call and email campaign to urge university officials to ask "President Maurie McInnis to rename Sanger Hall, given [Sanger's] lifetime emphasis on reducing the diversity of the US population by forcibly controlling birth and reproduction in communities she deemed 'unfit.'"
"Ironically, the dorms at Stony Brook University are all named after purported heroes," Lauren Enriquez, a spokesperson for Students for Life, told The College Fix via email. "And the one named after villain Margaret Sanger is in the same quad as one named after the true hero and statesman Frederick Douglass."
Enriquez said that Planned Parenthood has failed to fix Sanger's legacy. She pointed to an essay in The American Thinker by Toni McFadden, the pro-life group's minority outreach director.
"The trouble for Planned Parenthood is that the abortion behemoth hasn't adjusted course or reckoned with Sanger's legacy, because it carries on her dream today," McFadden said.
Let's be real about the founder of @PPFA #StrikeOutSanger

"Margaret Sanger is finally getting some of the brickbats she is due. Even the head of Planned Parenthood recently acknowledged that Sanger's actions and associations were blatantly racist." https://t.co/K33SY82pjT

— Kristan Hawkins (@KristanHawkins) April 27, 2021
"And, as the nation's largest abortion enterprise, Planned Parenthood today eliminates far more of the so-called 'unfit' than Sanger could have ever imagined possible," the minority outreach director said.
While Students for Life has started its campaign, it looks like the university is open to considering what it has to say.
"As a higher education institution, we have a long history of honoring and memorializing those who have contributed to both our university and society at large," Lauren Sheprow, a spokesperson, told The College Fix via email. She told The Fix that the university has created a committee to help develop recommended principles for considering the names of buildings.
Officials have also created a process that can guide future requests to rename buildings or locations on campus.
Judi Clarke, the school's inclusion and diversity officer, will oversee this process.
Both the set of principles and the process will be released soon, Sheprow said. A committee will be appointed on an as needed basis to consider renaming requests.
She said that it remains "important" to "cultivate a critical, productive conversation about how, and whom, we commemorate on campus."
MORE: UC Berkeley suspends 'eugenics fund'
She said university officials and the campus community should ask "deep questions about the act of memorialization itself."
The Rename Sanger College Initiative has also circulated a Change.org petition with nearly 350 signers as of May 18.
The Initiative urged the university to rename the building after pro-life feminist Elizabeth Stanton.
The group said that Stanton "was an abolitionist and a leading figure in the women's rights movement."
The early feminist also "concentrated her efforts on abolishing slavery and afterward become more outspoken on women's suffrage," during the Civil War.
MORE: Pitt allegedly teams up with Planned Parenthood to fetal tissue experiments
IMAGE: Biography/YouTube
Like The College Fix on Facebook / Follow us on Twitter