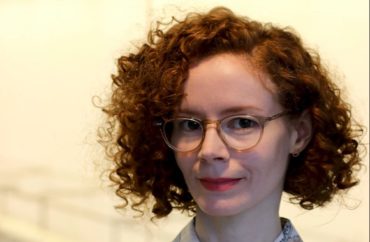 This is not trolling. It is not cancellation. This is abuse
The instructor of the University of Chicago's "The Problem of Whiteness" course is doubling down on her complaints about her critics, this time zeroing in on how social media amplifies such voices.
Late last month, Rebecca Journey (pictured) accused a U. Chicago student of "stochastic terrorism" due to his alleged "online campaign to cancel" the class — which led to "online harassment and death threats."
Now, in a December 8 op-ed in the student paper Chicago Maroon, Journey details some of the sordid bits of harassment and threats "The Problem of Whiteness" detractors have sent her.
"Rebecca Journey is among the most dishonest, disgusting, degenerate, and deeply evil figures in public life," read one message. "She ain't white. She's fucking translucent," read another.
Journey claims the student "opportunist" who started the controversy, Daniel Schmidt, has "preyed on a private figure—a precariously employed postdoc—to further his own craven ambitions" … and that he "weaponized his free speech to stifle [hers]."
"This is not trolling," Journey adds. "It is not cancellation. This is abuse."
MORE: Prof says 'crisis of whiteness' has affected white Muslims
Reactionary attacks on academics are not new. What's new about the practice in the 21st century is the force multiplier of social media. I am not even on Twitter, and yet I was targeted and terrorized through it. In just 280 characters or fewer, a user can mobilize a collective, decentralized attack and walk away, feigning ignorance. Righteousness, even. I was just "calling out" "anti-white racism." Let the dregs of the internet do the work.
Journey also claims the University of Chicago, known for its commitment to free speech, has "condoned [the] weaponization" of such in this particular case. She says had Schmidt contacted her, she would have taken the time to detail just what she, and the course, mean by "whiteness."
"[But a] conversation never happened, because [Schmidt] never reached out," Journey writes. "He didn't ask questions about my course description or request a copy of the syllabus. There was no thoughtful exchange of ideas during office hours. Clearly, [he] is not interested in learning. As evidenced by his expertly packaged Twitter feed, he is interested in generating content for his MAGA media persona."
Ironically, Journey never responded to two College Fix inquiries regarding her definition of "whiteness" back in early November.
Journey concludes:
Is going viral by doxing and harassing an instructor—particularly a structurally vulnerable one—a viable path to a media career? That is the message being telegraphed to others watching this play out. Bad faith actors will learn that they can hide behind the cover of free expression as they defame scholars and compromise classrooms.

The University has permitted the opportunist to terrorize an instructor, her students, and I would also argue our campus. Let me spell out the nature of that terror if it is not already clear. A teacher is not free to do her job if she is fearful that an armed white nationalist, activated by a provocateur, will track her down and shoot up her classroom. This is not hyperbole.
MORE: Vanderbilt prof delivers 'Dying of Whiteness' lecture at Cornell
IMAGE: U. Chicago screencap
Like The College Fix on Facebook / Follow us on Twitter