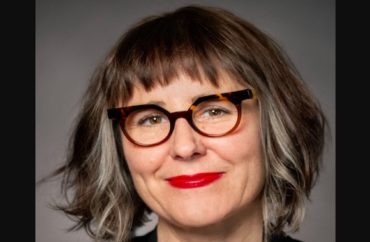 Examples: wearing a hijab in 'solidarity,' practicing yoga
A professor at Northeastern University says that, like with cultural appropriation, "whiteness" also is behind religious appropriation.
According to Liz Bucar, whiteness becomes apparent when "practices associated with bodies of color are adopted by white agents, when histories of racism are erased, and when forms of appropriation position white Americans as the proper interpreters of the 'true' meaning of a practice."
Bucar (pictured) told Religion & Politics that progressives aren't as in tune with appropriation of a religious nature as they are with that pertaining to culture.
"Religious combining is not only common, but also encouraged [as] a method to get the spiritual benefits of religions without losing individual autonomy," Bucar said.
In her book "Stealing My Religion," Bucar argued whiteness is behind "every case of borrowing [she] looked at and white supremacy in some form was a reason why the borrowing was harmful."
The book looks at three cases in particular: Showing "solidarity" with a religion (like wearing a hijab), "learning about a religious rite of passage through firsthand experience," and therapy based on a religion, like yoga.
Bucar pointed to "scholar of Black Islam and Muslim fashion" Kayla Renée Wheeler who panned hijab-wearing as virtue signaling and an "erasure": "People get to pat themselves on the back without actually doing anything meaning /helpful. I think it's harmful."
MORE: 'Mine! It's mine!' — How cultural appropriation tantrums really just a cry for help
Since they deal daily with "overlapping modes of oppression" and are "used to being erased, tokenized, and exploited," Black Muslims were the most vocal about hijab solidarity, calling it "gendered Islamophobia" and "white supremacy."
When it comes to yoga, Bucar argued in order for it to become "mainstream" it had to be "scrubbed of its devotional meanings and presented in spaces that are comfortable for white people":
For example, when my mom discovered yoga in the early 1970s it wasn't from an Indian guru, but Lilias Folan, a white woman in a leotard whose popular PBS show introduced yoga to a generation of white American women. Folan's postures and simple meditation techniques seemed slightly exotic at the time, which was part of their appeal, but they were also packaged in way that was accessible and comfortable for my white Protestant mother.

Rumya Putcha, a South Asian scholar of performance studies, shares a powerful story on her research blog, Namaste Nation, that illustrates the role of yoga in creating public white spaces. When Putcha lived in Texas, she was a member of a local yoga studio. Another member who was a white woman used a pun, "Namastay together," which offended Putcha as a desi woman. But when she voiced her concerns, the white member tattled to the studio owner, and Putcha was asked to leave the studio. This illustrates what can happen when white privilege is triggered.
According to her faculty page, Bucar is "a leading expert in religious ethics" whose work can be found in The Atlantic and Teen Vogue.
The College Fix has covered several instances of the alleged cultural appropriation of yoga; seven years ago at the University of Ottawa student activists canceled a free yoga class because it was "not sufficiently sensitive to yoga's cultural roots.
In 2018, a Michigan State University professor said white people doing yoga were "enjoying a 'system of power, privilege, and oppression.'" And last year the University of North Carolina Asheville held a "healing space" dubbed "Racial Trauma Yoga" exclusively for BIPOC (black, Indigenous, people of color) students.
MORE: Mandatory training teaches students: 'white people wearing cornrows is cultural appropriation'
IMAGE: Northeastern U. screencap
Like The College Fix on Facebook / Follow us on Twitter