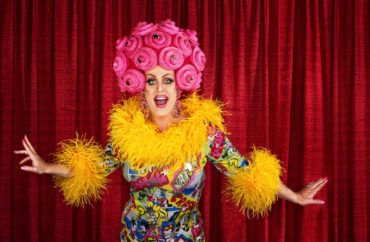 UPDATED
Five months later, hearing not even scheduled
Pacific University is investigating an education professor for violating Title IX by teaching cognitive science with an anecdote about female impersonators.
At least one undergraduate student took offense to Richard Paxton's method of explaining "schema theory," which deals with the stages of cognitive development.
According to his lawyer, however, no one filed a formal complaint – raising the question of whether the private university even had grounds to launch an investigation.
It hit the tenured professor with an immediate – and ill-explained – paid suspension that has now lasted five months, lawyer Robin DesCamp told The College Fix in a phone interview last week.
Not only has his disciplinary hearing not happened, but it has not even been scheduled yet, she said. The university has refused to show her or Paxton the recording of the Zoom class at issue, citing the Family Educational Rights and Privacy Act.
Nor has DesCamp or her client been contacted by Lori Watson, the independent investigator retained by Pacific, who has a copy of the recording. The university is violating Department of Education regulations enacted in the Trump administration, she claims.
The lawyer is puzzled at what the investigator can even investigate. DesCamp argues that "none of the allegations have anything to do with Title IX," and that Paxton has used the anecdote about female impersonators in class for 15 years with no trouble.
By initiating a Title IX probe, and absent a formal complaint, Pacific is falsely portraying Paxton as "someone accused of sexual harassment," DesCamp said.
Richard Paxton chronology of dispute with Pacific University by The College Fix on Scribd
No accuser is transgender
Jean Piaget's schema theory assumes that human conduct and behavior is based on the continuous categorizing of patterns and the relationships that surround them, helping humans make distinctions. Schemas are built up by lived experience, especially regarding gender.
The professor explained the theory to his Zoom class by relating a story from many years ago, when he and male friends were in the French Quarter of New Orleans.
They decided not to enter a bar when they realized what they thought were women from afar were actually men in drag: The sign read "World's Best Female Impersonators."
Female impersonators are often "gay or cis-gender" males playing a part for entertainment, and they are not attempting to portray transgender people, DesCamp said. None of the students who informally complained about Paxton is transgender, she added.
MORE: Professor sues for firing over criticism of transgender ideology
The notice of allegations given to Paxton (left) also mentioned a graduate course. Four students cited his alleged remarks about race, including that Jews funded the Revolutionary War, and an observation that women don't wear purses "like they used to."
DesCamp said Paxton is planning to file suit against the university, which is located just outside Portland, Oregon, once the Title IX investigation is complete. He will allege breach of contract, age discrimination, retaliation and intentional infliction of emotional distress.
The experience has given him depression, and he has already sold his house and moved across the mountains to Bend, according to DesCamp.
He also filed a complaint with the federal Equal Employment Opportunity Commission for age discrimination, she confirmed in an email Wednesday: "We are waiting to hear back from the EEOC on next steps" but don't expect a response soon. As for his Title IX complaint filed with the U.S. Department of Education, they "expect a determination within the next week or two" on whether that agency will open an investigation.
The American Association of University Professors is also scrutinizing the university's actions. DesCamp provided The Fix a Feb. 1 letter from the organization to Pacific University President Lesley Hallick, addressing its concerns about Paxton's treatment.
'Our schemas were put in disequilibrium'
AAUP's letter emphasizes that the university "endorses and honors" the academic freedom group's 1940 Statement of Principles on Academic Freedom and Tenure.
Its decision to put Paxton on administrative leave or suspension violates his tenure, and by connection the AAUP principles, Gregory Scholtz, director of the group's Department of Academic Freedom, Tenure, and Governance, told President Hallick.
According to the letter, Paxton was accused of saying that "every person has a gender," which "ignored the gender identify of agender and nonbinary" in his explanation of easily distinguishable patterns.
It also alleged he made "negative and gender-stereotyping comments" by commenting that it is "weird" that contemporary young women "do not carry purses like they used to."
Explaining his group's long-ago behavior in the French Quarter, when the young men realized the entertainers were female impersonators, Paxton said:
Suddenly our attitudes changed. Our schemas were put in disequilibrium. A few nervous comments were exchanged and we quickly decided to go somewhere else.
MORE: Professor has guided 1,000 youths into trans identities
That collective "nervous" reaction stemmed from the fact that they hadn't been to drag bars, such as one in downtown Portland, he told students. "I'm sure, with a little time and experience, I will feel perfectly comfortable at a drag bar, and my new schemas will reach equilibrium and tell me how to behave properly."
Five graduate students separately complained that Paxton, who is Jewish, "engaged in negative and stereotypical comments with regard to ethnicity and gender" – specifically that "Jews funded the Revolutionary War."
These allegations do not justify a professor's immediate suspension or dismissal, Scholtz wrote: The university handbook limits these remedies to situations where "immediate harm to the faculty member or others is threatened by continuance."
Paxton's dismissal was "effected absent any consultation with a faculty body," and he had yet to be given a hearing 115 days after his suspension, Scholtz continued. Pacific must rescind Paxton's suspension "immediately" and "conform to [its own] principles and standards" for any further actions in the proceeding.
American Association of University Professors letter to Pacific University by The College Fix on Scribd
Told the investigation 'would result in his termination'
Paxton's allegations share common threads with those of students in Title IX investigations, including deprivation of due process and withholding of evidence.
If he didn't resign quietly, the university promised to open an investigation with a predetermined result, according to DesCamp: "He was not told that the outcome of a Title IX investigation could result in his termination – even despite having tenure for years – but that it would result in his termination."
DesCamp said when she asked the university for the formal complaint that spurred the investigation, it took two months to respond and then simply produced a "notice of allegations." The U.S. Department of Education's Title IX regulation that took effect last summer – and Pacific's own policies – require the accused individual to be given the formal complaint, she said.
For weeks the university refused to provide the complaint despite its own policy, finally admitting to DesCamp that it didn't have one to give her. The Title IX Sexual Misconduct Process, which The Fix has reviewed, says the university won't open an investigation without "a Formal Complaint … filed either by a Complainant or the Title IX Coordinator."
MORE: Appeals court grills university on forcing prof to call male student 'miss'
In her Feb. 22 response to the AAUP, also shared with The Fix, President Hallick (right) argued that Pacific was obligated to investigate Paxton because of "a formal complaint … within the jurisdiction of Title IX."
This perplexed DesCamp, who deconstructed the president's response in a memo she gave The Fix: Hallick's letter is "a confusing and meandering document with many words, but no substance."
Beyond the missing formal complaint, none of the allegations against Paxton meet the standard for a sexual misconduct complaint, she told The Fix: "severe and pervasive harassment of a sexual nature that impedes on a student's ability to obtain their education."
Pacific University response to American Association of University Professors by The College Fix on Scribd
'You recuse yourself, and you stay out of it'
The university's treatment of Paxton is partly based on its financial troubles during the COVID-19 pandemic and his relatively high salary as tenured faculty, he believes. (The university has not updated its public budget information since 2019.)
One official, Jennifer Yruegas, wears several hats, which makes her exceedingly powerful, DesCamp said. She's general counsel, associate vice president of human resources and associate dean of the business school, and also served as Title IX coordinator at the start of Paxton's proceeding.
Yruegas has an improper and potentially illegal "campaign to get rid of older and expensive employees, and anyone else who comes into her crosshairs," the lawyer said, citing her contacts with several other employees targeted or pushed out by Yruegas.
While the attorney did not delve into the specifics of those other cases for privacy reasons, she said Yruegas targeted someone "with war-inflicted disabilities" and another older staff member claims to have gotten "PTSD" in response to Yruegas's behavior.
DesCamp provided The Fix a 2018 lawsuit against Yruegas (left) in state court, in her capacity as an outside legal consultant. Chinese clients accused her of stealing $580,000 that she was wired to legally set up and acquire property for a "cannabis-related business" in Oregon, in which she would have ownership.
In her reply, Yruegas denied she "ever provided legal services" to the clients. "That's a flat-out lie," DesCamp told The Fix Wednesday: "It's a problem for her, because lawyers are not supposed to go into business with their clients."
The parties settled the case in September. The stipulated dismissal mentions a settlement agreement, but The Fix has not seen that document.
Though Yruegas is no longer officially involved in the Paxton case, DesCamp said she has been told that the official is still offering legal advice.
"This is 'Ethics 101' stuff," the lawyer said in the phone interview:
If you are accused of wrongdoing in a matter, even if you are in-house counsel, and you are a witness to what is sure to be the subject of litigation, you don't continue to take part in that matter. You recuse yourself, and you stay out of it. To not do so indicates a highly problematic continuing involvement in a dispute of your own making.
CORRECTION: The original article did not mention Paxton's Title IX complaint with the Department of Education, whose response his lawyer expects "within the next week or two." The article has been fixed. An updated version of DesCamp's "chronology" document has also been posted. Due to a misunderstanding between DesCamp and The Fix, Yruegas' alleged behavior toward other employees was also described incorrectly. It has been fixed.
MORE: University libraries host 'Drag Queen Story Hour'
IMAGE: CREATISTA / Shutterstock.com, Pacific University
Like The College Fix on Facebook / Follow us on Twitter