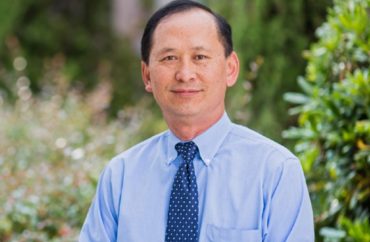 'A is for accountability and anti-racism, E is for engagement, I is for individual-centered institutional change, O is opportunity, and U is unity'
A medical school professor wants to tackle racism in the healthcare system using his "AEIOU" system, a version of "diversity, equity and inclusion."
Dr. Tung Nguyen, a professor at the University of California San Francisco, said "anti-racism efforts start with engaging underserved communities and nurturing diverse trainees in health research and health care," according a paraphrase of his comments by Nature.
Nguyen, as the newly appointed vice-chancellor for research inclusion, diversity, equity and anti-racism, helped develop his principles to combat racism within the American healthcare system. "A is for accountability and anti-racism, E is for engagement, I is for individual-centered institutional change, O is opportunity, and U is unity," he told Nature.
"Although some institutions are trying to hire diverse candidates, there is a fundamental lack of urgency when it comes to addressing systemic racism," Nguyen (pictured) said.
He previously spoke about being a lapsed Catholic who wanted to break away from his family's "strict Vietnamese/Catholic worldview" and learn more about philosophy. As a student, he wrote his "thesis about the role of the doctor in assisted death," according to an interview posted by UCSF.
The medical professor also said there is limited data on Asians and healthcare. "In this country, the health-research world has many aspects that are anti-Asian," Nguyen said. "A lack of data on one racial identity is always a sign of racism because it essentially means that a portion of the population is invisible.''
The Fix reached out to Nguyen for comment twice in the past three weeks on his views but he has not responded. Nor did he respond to questions about how he would define anti-racism as well as how he has implemented AEIOU thus far.
On his Twitter feed, Nguyen has complained about Republicans and "white bigots."
MORE: 'Race Marxism' has infected medical schools, report finds
A former associate dean of the University of Pennsylvania School of Medicine disagreed with Nguyen's assertions.
Dr. Stanley Goldfarb told The Fix in a media statement that "the idea that clinical research is invalid if it does not address specific racial groups is only correct if the racial groups have specific biologic issues that can only be evaluated by studying that group."
"But that means that there are specific biologic characteristics that define a group," he said via email.
Responding to the claim that health research ignores Asians, the medical doctor and former Penn official said that nuance is needed. "[I]f Asian patients from India and Asian patients from Japan share a biologic problem, then study the problem in Asians. If all they share is social characteristics but are biologically and genetically dissimilar, then simply studying 'Asians' does not make a lot of sense.''
"Medical research is not a monolith that pursues scientific problems based on some stated agenda," Goldfarb told The Fix.
He said that scientists will naturally study clinical problems as they arise. He cited the example of the response to HIV/AIDS. "The scientific world quickly mobilized to address the problem and produced an excellent approach to control the disease," Goldfarb said.
When it comes to the AEIOU system, Goldfarb said that it's "merely ideology" for researchers to automatically want a specific amount of black, Hispanic or Asian participants.
Goldfarb recently wrote a paper taking on this idea of segregated healthcare, where racial minorities receive treatment from medical professionals of the same race.
"No sound evidence supports resegregating health care, and taking this dangerous road will surely lead to worse health outcomes," he wrote.
MORE: Academics received $297 million in NIH funds to study health and racism
IMAGE: Tung Nguyen/University of San Francisco
Like The College Fix on Facebook / Follow us on Twitter