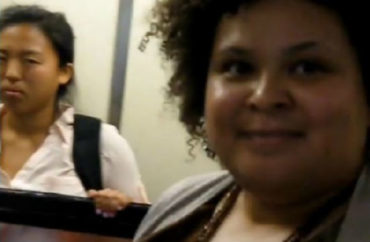 She shows 'the radical potential of black feminism' on campus
More than four years ago, a professor at the University of California-Santa Barbara stole a sign from a pro-life campus demonstration and physically attacked a teenager who tried to retrieve it, drawing her blood.
Mireille Miller-Young not only got to keep her job, but she's being honored by the University of Oregon this week.
The taxpayer-funded university's Department of Women's, Gender and Sexuality Studies is featuring Miller-Young as the first presenter in its "black feminist speaker series." The professor of feminist studies will "discuss her work on black feminism, labor and sex work."
The series will tackle "the radical potential of black feminism in the work that we do on campus and in our everyday lives," according to one of the UO professors in the department, Shoniqua Roach.
It's sponsored by not only the College of Arts and Sciences and the Department of English, but also President Michael Schill's office. You may remember that Schill was the target of a successful deplatforming attempt by student protesters a year ago, who said they were simply taking a "stand against fascism."
Miller-Young is likely an inspiration to these students who shut down Schill. After her altercation with pro-life students in 2014, she told police she had set a good moral example for her students by stealing the property of a group that "triggered" her.
MORE: Pro-life students file civil lawsuit against Miller-Young
She pleaded no contest to charges of grand theft person, battery and vandalism. Supportive professors from across the country sent letters to the judge, defending Miller-Young as a victim of the "cultural legacy of slavery" and of "violent images … meant to traumatize," referring to the graphic abortion images the student group was using.
The judge paid them heed, sentencing the triggered professor to community service, anger-management classes and $493 in restitution to the teen she assaulted. The mother of the wounded teen told The College Fix at the time that the sentence was like ordering a fox to guard a henhouse and train other foxes to do the same.
The students Miller-Young attacked filed a civil suit against her and UCSB. According to their lawyers at the Life Legal Defense Foundation, the parties reached a confidential settlement a year later, with which their young clients were "very satisfied."
The litigation revealed that UCSB neither disciplined Miller-Young nor opened an investigation that could have resulted in discipline, according to the foundation.
The Fix has asked UO media relations if the university was aware of Miller-Young's past and if it's appropriate for Schill's office to endorse her event, given the disruption against him a year ago.
Read the speaker series and our coverage of Miller-Young.
MORE: Professors urge forgiveness of Miller-Young because of 'slavery'
IMAGE: Survivors of the Abortion Holocaust/YouTube
Like The College Fix on Facebook / Follow us on Twitter