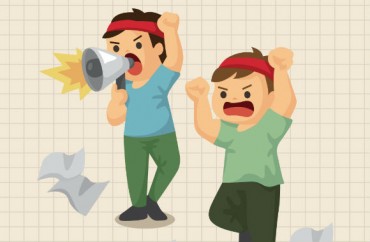 This past Tuesday evening at Dartmouth College, conservative commentator David Horowitz's discussion titled "Identity Politics and the Totalitarian Threat from the Left" drew about 50 people … including the usual cadre of progressive activists and protesters.
Demonstrators at the College Republicans-sponsored event worked on their laptops with headphones to "symbolically" show Horowitz they were "blocking out his words," unfurled signs with "Trans Rights are Human Rights" and "ICE is the Gestapo" on them, and played loud music during the presentation.
The Dartmouth reports that the oh-so "reliable" Southern Poverty Law Center says Horowitz's Freedom Center gives "anti-Muslim voices and radical ideologies a platform to project hate and misinformation."
Security at the venue was tight, and College Republicans president Joshua Kauderer stated any disruptions "would not be tolerated."
Horowitz covered a gamut of topics ranging from the Israeli-Palestinian conflict ("the Palestinian national movement was based on 'a series of monstrous lies' and anti-Semitic beliefs), to progressives' infatuation with identity politics ("no one is oppressed in America"), and Brett Kavanaugh accuser Christine Blasey Ford ("she wanted to destroy a man's life without coming forward").
[Horowitz's] talk was punctured with frequent student protests and interruptions. In one instance, as a student exited the lecture hall in protest, Horowitz called her a "self-inflicted ignoramus." In another instance, he said that he was displeased to have traveled all the way across the country to have "all these gorillas attacking [me]." He called the students protesting "jacka—es" and consistently referred to them as "idiots," "depressing" and hateful toward America.

As the talk continued, the students' protests grew more disruptive. Several students left the event and scattered fliers in the aisle.

Later, two students began kissing near the front of the room, which Horowitz called "disgusting" and "proud stupidity."

A few minutes later, a protester walked out into the aisle, saying, "Hey Horowitz, black people don't need your help."

"I wouldn't help you if you were drowning," Horowitz said in response. …

Ben Vagle '22 said that he attended the event with no prior knowledge of Horowitz or his views.

"I was surprised by how much bigotry was in that lecture," Vagle said. He added that he found some aspects of the protest, specifically the interruptions, inappropriate, but also felt Horowitz was here to "generate a reaction and create a narrative of conservatives being oppressed on college campuses."
Indeed, Vagle's complaint is likely what irritates progressives most about Horowitz: He throws their game and antics right back at them, and they (really) don't like it.
MORE: UNC Muslims protest Horowitz 'Anti-Israel Jihad' speech
MORE: Horowitz takes credit for #JewHaters posters targeting SJP
IMAGE: notkoo/Shutterstock.com
Like The College Fix on Facebook / Follow us on Twitter