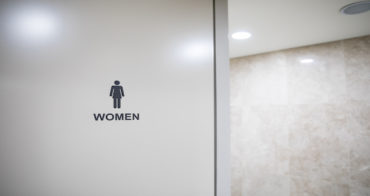 School won't comment on policy
A restroom policy at a public university apparently allows for university members to use restrooms of the opposite sex with no questions asked. The university declined to comment on the specific nature of the rule.
Wright State University's "All Gender and Universal Access Restrooms and Locker Rooms" policy states that the school "allows individuals to use the restroom that corresponds to their sex, gender identity, and/or gender expression."
"We allow people to use the restroom facility they deem they need to use," the policy states.
According to a GLAAD glossary linked by Wright State's Office of LGBTQA Affairs, the term "gender expression" refers to "[how] a person outwardly expresses their gender." Under this definition, a man who dresses himself to look like a woman would be allowed to use the women's restrooms on Wright State's campus.
It is unclear if the policy would allow men to use the women's restrooms even if they didn't dress as women. The university did not respond to queries from The College Fix seeking to learn more about the policy, including whether its language means that non-transgender individuals could use whatever bathroom they needed to regardless of reason for doing so in that moment.
The rule is part of Wright State's bathroom policy that aims to "create and sustain a campus environment that supports and values all members of our community, including visitors."
According to the Office of LGBTQIA Affairs: "The Office of Equity and Inclusion is working to convert a set of gendered restrooms in every major building on campus to become all-gender multi-stall restrooms." The first conversion was completed in January 2016 in the student center.
"The conversion is cost-effective, only requiring us to change the signage outside of restrooms. All-gender and gender-specific restrooms are clearly labeled in all buildings," the office claims.
The office stresses that "you don't have to use an all-gender restroom if you do not want to."
The group Allies at Wright State issued a letter in February 2018 in support of the bathroom initiative, though they recognized that the university was experiencing financial hardships.
"We know that our campus is emerging from difficult economic times, but we hope that by enhancing the climate of inclusion on campus, more students might consider Wright State as the right place for them to further their education. Additionally, this will make our campus more appealing to future employees," the group wrote.
The activists advocated the transformation of "at least one restroom in each campus building into one that anyone might use."
MORE: University to females: Don't 'gender police' if man comes in to your bathroom
MORE: There's a sudden surge of trans students coming out at my college
IMAGE: SUNG YOON JIN / Shutterstock.com
Like The College Fix on Facebook / Follow us on Twitter