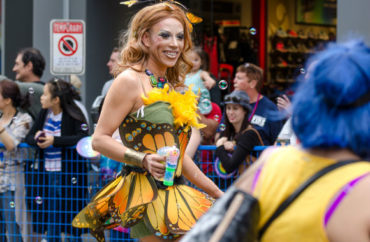 'Gender binary titles' dissuaded some students from competing
Kings and queens make transgender and nonbinary students feel excluded, according to Stony Brook University.
That's why the State University of New York campus is switching its "king" and "queen" titles for the gender-neutral "Royals" in this weekend's homecoming celebrations, the taxpayer-funded university announced this week.
Instead, three students "who could identify as any gender" will be crowned. The king-and-queen tradition at Stony Brook only stretches back to 1984, and the gender-neutral switch doesn't really change how the administration had run the contest in recent years:
"We've moved to take affirmative steps each of the past few years so students could choose the formal wear and regalia they most identify with and choose the gender they most closely identify with," said Rick Gatteau, Interim Vice President for Student Affairs and Dean of Students.
Even with these loose rules for gender identification and regalia, "some students, especially those who identify as LGBTQ*, especially transgender and nonbinary students, did not feel comfortable competing for these and other contests on campus," the university claimed.
The very fact that competitors had to choose a binary gender forced some students to "not be seen or affirmed for who they are," said Chris Tanaka, assistant director of LGBTQ* services. (The asterisk refers to any other alternative sexual orientation or gender identity.)
The 10 finalists this year are not identified by their preferred gender or even preferred pronouns, but six appear to be biological women. Previously the finalists were composed of five men and women each.
The public university argues that moving beyond gender will focus on each finalist's "characteristics as ambassadors" of the school, including "their effort to build a caring and supportive campus community for their peers."
MORE: UMinn drops king and queen for genderless 'Royals'
IMAGE: Brian Ganter/Shutterstock
Like The College Fix on Facebook / Follow us on Twitter