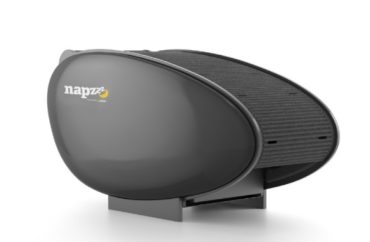 Also spent nearly $400,000 on WiFi for one section in a stadium
Rutgers University's football team may be on a three game losing streak, but its players can sleep easy thanks to a $12,400 napping machine.
"At the onset of the coronavirus disease (COVID-19) pandemic, Rutgers declared a fiscal emergency and aimed to reduce the budgetary shortfall," The Daily Targum reported. The student newspaper conducted an analysis of released budget data and highlighted a number of purchases.
"The Athletics Department, though, continued spending money largely uninterrupted — purchasing everything from a $12,400 power nap machine, to $470 laser pointers for the football coaches, to a car service for a single track athlete totaling $4,400," the student paper reported.
The napZZZ Sport Pod (right) "features a spacious interior with the ability to fully recline," according to the company's website. The public New Jersey university said it bypassed the bidding process because napZZZ is the only company that manufactures a sleeping pod for 7-foot tall, 250-pound athletes.
It's not just sleepy athletes who will benefit from the athletic department's spending habits — students who want to browse Instagram instead of watching Rutgers get blown-out can get on the WiFi inside the football stadium.
The paper identified other expenditures such as "$385,914 paid in May to SHI International Corp., the corporate sponsor of Rutgers football, to install wifi service in the student section of SHI stadium," "$2,500 paid to K Sound LLC on Oct. 13, 2020 for generating fake crowd noise for a football team practice" and almost "$4,400 on June 14 for car service for a lone track athlete."
The public university's Association of American University Professors chapter has been critical of the university's spending, especially as it has laid off workers and the deficit has reached $200 million.
The AAUP sued the university in summer 2020 to obtain details on how the athletic department is spending money and how it is taking on debt.
The faculty union announced in November 2020:
We won our lawsuit against Rutgers for wrongly withholding financial data we requested under the Open Public Records Act…to try to get answers about Rutgers Athletics and its financial drain on the university—to the tune of more than $100 million transferred to athletics last year. The judge ordered management to turn over much of the information we requested and to pay our union's attorney's fees and court costs.
"Rutgers Athletics has needed an ongoing annual subsidy, generated in part by mandatory student fees, of between $20 million and $40 million for the last decade," the union said.
MORE: Public university presidents defends spending $210K on statue
IMAGE: napZZZpod
Like The College Fix on Facebook / Follow us on Twitter