Two Rutgers University faculty groups have come out in support of "Professor Crunk," aka Brittney Cooper, who said in a recent interview that "white people are committed to being villains" and as such "we gotta take these motherfuckers out."
On Friday, the Rutgers branch of the American Association of University Professors said in a statement that after the interview Cooper had been subjected to a "renewed wave of racist attacks for her public scholarship."
"We wish to express our unequivocal solidarity with Dr. Cooper," the statement reads. "[We] affirm our support of her academic freedom, and […] decry the harassment and intimidation she now faces, including threats of physical violence fueled by a media smear campaign."
The AAUP characterized Cooper's recent remarks as a "bad-faith media disinformation campaign" that "grossly misrepresented [the] communication of her research findings" and  "falsely accus[ed] her of promoting violence."
The Rutgers University Black, Indigenous, and People of Color (BIPOC) Faculty Caucus also issued a statement (below), claiming the attacks on Cooper are "part of a larger campaign of disinformation aimed at destroying social justice activism and anti-racist education, and […] reflect a historic pattern that transmutes white anxieties about the loss of hegemony into anti-Black violence."
ALERT: Check out our new Campus Cancel Culture Database!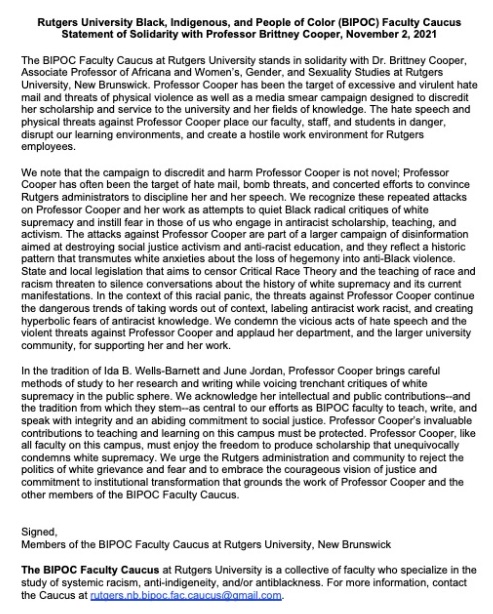 It concluded: "We urge the Rutgers administration and community to reject the politics of white grievance and fear and to embrace the courageous vision of justice and commitment to institutional transformation that grounds the work of Professor Cooper and the other members of the BIPOC Faculty Caucus."
As noted by The Fix, Cooper did say immediately after her "we gotta take these motherfuckers [white people] out" remark that "but […] we can't say that, right? I don't believe in a project of violence. I truly don't. Because in the end, I think our souls suffer from that. And I do think some of this is spiritual condition."
Cooper then followed that up with a rant that whiteness "totally skews our view of everything," and that African and indigenous peoples were "brilliant" and "vibrant" before "white people showed up being raggedy and violent and terrible and trying to take everything from everybody."
The AAUP said that Cooper is a "renowned" and "widely acclaimed scholar and public intellectual" whose academic work "illuminates the harm and devastation wrought by anti-Black racism and white supremacist projects."
Some of that "illumination" includes blasting singer Iggy Azalea for her "sonic cultural appropriation" of southern black women, claiming Jesus was "potentially queer" or "married to a prostitute," alleging the desire to end COVID lockdowns was actually about killing black people … and perhaps most "illuminating" of all asserting that the very concept of time is "racist."
Read the full Rutgers AAUP statement.
MORE: Cooper discusses the concept of 'ratchetness'
IMAGES: YouTube, Twitter screencaps
Like The College Fix on Facebook / Follow us on Twitter