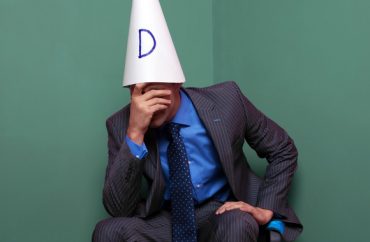 Secondary schools in the San Diego Unified School District have jettisoned traditional grades of A, B, C, etc. due to significant racial disparities.
According to The San Diego Union-Tribune, black, Hispanic and Native students are much more likely to "be given" (note: not "earned") poor or failing grades than their white and Asian peers.
A main issue is teachers incorporating "non-academic" factors into a student's grade, such as completion of homework and classroom behavior. Another is not providing students with chances to rectify mistakes on assessments. "Experts" say doing this disadvantages students who have tough home lives, and doesn't allow them to adequately rectify an early poor academic situation.
Kids caught cheating won't even be penalized; they're given a chance "to reflect on what [they] did, repair trust and receive counseling or other help."
The problem with all this, however, is it doesn't prepare students for the real world.
College professors aren't going to read, reread, and reread again students' term papers, let alone allow them to be turned in late. And then there's employers — how many of them will be willing to accept, say, a late sales report? Or one riddled with errors? What will an SDUSD alum say — "Oh, well, I'll get it right eventually"?
For what it's worth, I concur with some of the district's rationale, and when I was teaching my grading policies reflected such. For example, while I did grade homework, it was only 30 percent of a student's grade, and kids were allowed to make corrections on it for full credit. (While the corrections were due on the date I stated, I was rather flexible on that as students often would seek me out for assistance.)
MORE: School district scraps traditional 'A-F' grades for kinder, gentler model
I did not allow corrections on tests and quizzes (70 percent of a student's grade) as my view was if I permitted corrections on HW assignments pertaining to an assessment, students had to show they knew what they were doing. In the real world, there is a thing called a "deadline." That being said, I rarely (especially later in my career) gave large "make or break" tests where a poor grade could permanently cripple a student's chances of a decent cumulative grade for the quarter. In addition, I always gave an extra credit assignment which gave students within four percentage points of the next (higher) letter grade an opportunity to achieve it.
Efforts like San Diego's are implemented in the name of "equity" and, more recently, "anti-racism," but they'll leave students, especially minority students, woefully unprepared for the future. Maybe that future will change if the race grievance industry gets its way; that way certainly won't be an improvement, however.
Consider, in closing, the words of black educator William Jenkins:
"Many people in America, Black and White, are convinced that black people are inferior. Starting with the assumption of the inferiority of blacks, they have to put in place an explanation for their failure so they will not have to bare their inferior status to the world.
"Interestingly enough, the black children in schools today, generally, are inferior; but not because of their color. They are inferior because they were believed to be inferior, then allowed to practice inferior ways (and protected in those ways by those who believed they were inferior) and in time the practicing of inferior ways condemned them to the inferior status they protest so much against."
MORE: UCLA cans lecturer who questioned preferential grading fro blacks
IMAGE: RTimages / Shutterstock.com
Like The College Fix on Facebook / Follow us on Twitter