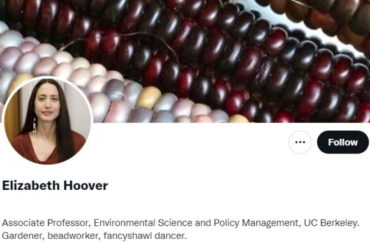 UPDATED
Critics paint her as 'Pretendian'
A self-identified Native American scholar hired in 2020 by UC Berkeley recently admitted she has no proof she descended from two tribes she has built her academic career upon.
Professor Elizabeth Hoover, who specializes in environmental justice in Native American communities, published a statement on her relatively new personal website that she will no longer claim she is of Mohawk and Mi'kmaq descent.
Hoover's statement comes after she received pressure from others in Native American communities that questioned her ancestry, reported Indianz, a Native American news website.
After a thorough search of online databases, archival records and census data, "what I am currently left with is that I do not have any official documentation to verify the way my family has identified," Hoover wrote in her statement.
"…Now, without any official documentation verifying the identity I was raised with, I do not think it is right for me to continue to claim to be a scholar of Mohawk/Mi'kmaq descent, even though my mother is insistent that she inherited this history for a reason," Hoover stated.
"As such, I have been approaching my friends, collaborators, students, colleagues, and members of the general public, to share this information about my identity and to re-form these relationships as needed."
UC Berkeley officials, in a 2021 news release touting diversity cluster hiring as a way to address equity and justice, quoted Hoover and described her as a "new Native American faculty member in ESPM and one of 11 self-identified Native American/Alaska Native ladder-rank faculty members at Berkeley."
But Hoover's critics contend she built her scholarly career on false pretenses. The Indianz report cites several examples and publications in which she used the Mohawk and Mi'kmaq connection to build up her academic reputation and scholarly field of work.
"More recently, Hoover said people who have been raising doubts about her background are the ones causing 'damage.' Internet messages seen … indicate that she considers herself a victim, even though she now admits her decades-long claims of being Mohawk and Mi'kmaq are unsupported by her own research," the website stated.
The Native American news outlet goes on to cite Drew Hayden Taylor, whose documentary "The Pretendians" is about "people who falsely assert a Native identity often try to justify their claims by bringing up the 'good things' they are supposedly doing for Native communities."
Over the summer, Hayden Taylor's research led to the resignation of a self-identified "indigenous" scholar in Canada, who resigned from Emily Carr University after being outed as white.
In 2021, a University of Saskatchewan professor was suspended after it was revealed her claims of being indigenous were also false, that she is actually "entirely European."
As The College Fix reported in June 2021, another six white female academics have posed as scholars of color in recent years to advance their careers.
And these half-dozen examples do not include one of the most famous cases of all: Democrat Elizabeth Warren paved the way for this type of deception when she infamously pretended to be Native American during her time at Harvard in the 1990s.
CORRECTION: A previous version of this article incorrectly stated Hoover was hired at Berkeley as part of a diversity cluster hiring cohort. 
MORE: Six white female academics have posed as scholars of color in recent years
IMAGE: Twitter screenshot
Like The College Fix on Facebook / Follow us on Twitter