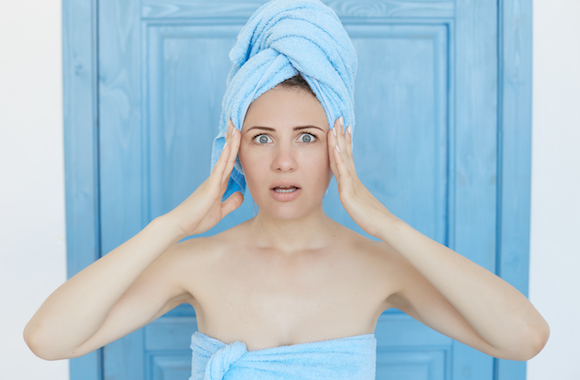 Yet government can force teenagers to disrobe in front of opposite sex?
A federal court permitted a lawsuit to proceed against an Illinois school district that allows high school boys to use girls' locker rooms, restrooms and showers in order to accommodate transgender students.
But girls who don't want to be seen naked by boys got bad news: The judge ruled that they have no right to "visual bodily privacy" if the government says so.
Dozens of families sued the Chicago-area Township High School District 211 three years ago due to its policy letting students as young as 14 choose to use the locker rooms of the opposite sex.
"All the students must use the restroom with the knowledge that someone of the opposite sex is present or could walk in at any time," their lawyers at the Alliance Defending Freedom wrote in a background document on the case.
It makes the stakes clear: "If our government is powerful enough to command innocent school children to disrobe in the presence of opposite-sex classmates, then there will be little it will not be powerful enough to do."
The plaintiffs, organized as Students and Parents for Privacy, are composed of 52 families made up of 136 parents and current and future students who are "being forced to use the restroom, or change clothes, with someone of the opposite sex in the room."
U.S. District Judge Jorge Alonso is letting Title IX and religious freedom claims go forward while throwing out other claims. Tom Petersen, director of community relations for the district, emphasized that "only three" claims are going forward.
"The District will continue to defend our practices that affirm and support the identity of all our students," he wrote in an email to The College Fix.
When The Fix asked the alliance what has happened in the case for the past three years, a spokesperson said it was "waiting on clarity from our attorney on this" but has not responded since Tuesday.
MORE: Dozens of families sue feds for forcing school to let boy shower with girls
Risking 'urinary tract infections' and missing class time count as 'injuries in fact'
Township High School District 211 did not initially choose to let biological males look at females in a partial or total state of undress.
The Obama administration's Department of Education threatened to take away federal funding in 2015 unless the school district changed its policy. It received $6 million in 2014.
Though the district already allowed the male student at the heart of the complaint to shower and dress in a private area of the girls' locker room, federal officials said that accommodation "subjected the student to stigma and different treatment." The district changed the policy without telling parents or students, and girls found out "when they walked into their restroom and came face-to-face with Student A," the male student who identifies as female.
Before the girls' locker room was opened to Student A but after the restrooms were, a non-plaintiff girl "who had been sexually assaulted previously" saw Student A's penis, according to Alonso: "District 211 failed to investigate or remediate the situation."
The Alliance Defending Freedom argued the case on three factors: the financial coercion from the Department of Education was unlawful and the revised policy violates both constitutional privacy rights and Title IX.
The revised policy caused girls "embarrassment, humiliation, anxiety, fear, apprehension, stress, degradation, and loss of dignity," according to the lawsuit.
Judge Alonso knocked down the school district's first argument, that Students and Parents for Privacy does not have "associational standing" because it has not named "any individual members."
The allegation that the girls "have been startled, shocked, embarrassed and frightened by the presence of Student A in the girls' restroom" is an injury "sufficient to establish standing," he said.
Alonso noted the lengths to which the girls have allegedly gone to avoid sharing intimate facilities with boys, which count as "injuries in fact."
One "walks around all day in sweaty, dirty gym clothes" under her school clothes, some risk "urinary tract infections, dehydration and constipation" by using school restrooms as little as possible, and others "miss instructional time" by waiting to relieve themselves until class periods.
MORE: Students force to undress with opposite sex want a rehearing
As #SCOTUS considers taking an important case on student privacy in Pennsylvania public schools, a federal court in Illinois recognizes the issue is worthy of consideration.
Read more here: https://t.co/kdBfDIrr6y pic.twitter.com/Ec7LRKVZUi

— AllianceDefends (@AllianceDefends) March 29, 2019
District has 'conveyed to students' they are 'bigoted and intolerant'
The plaintiffs argued that students were "subjected to harassment in violation of Title IX" and "sexual harassment due to the compelled affirmation policy," and Alonso said that was enough under relevant legal precedent.
The 7th U.S. Circuit Court of Appeals has compared Title IX to Title VII and Title VI on "the standards for pleading discrimination (including harassment)," and the plaintiffs have pleaded "far more than is necessary" on sexual harassment, he said.
"Whether SPP can ultimately prevail on this claim is a question for another day, but the allegations in the complaint suffice to put District 211 on notice," Alonso concluded.
The religious freedom claim is the last one moving forward in this case. The plaintiffs alleged the school district violated the Illinois Religious Freedom Restoration Act.
Alonso said the school district moved to dismiss on "two non-starters" – that it has a "compelling interest" and the religious freedom claim is "preempted." Those are affirmative defenses, which can't form the basis of a motion to dismiss.
It also failed to convince the judge that the plaintiffs have not "adequately alleged membership in or adherence to a particular religion."
MORE: Boyertown forces black girl from foster care to undress in front of boy
It was enough that the students claim to have "sincere religious beliefs that they should not undress or use the bathroom in front of members of the opposite sex," and that the parents claim to have "a sincere religious belief that they should teach such modesty to their children," Alonso said.
The plaintiffs have adequately alleged "a substantial burden to their exercise of religion" for several reasons, the judge continued. Students are required to take physical education and swim classes, which require them to disrobe between classes, and the swim facilities in particular do not have "private changing stalls or private showers."
They also claimed the school district has "conveyed to students" they are "bigoted and intolerant" if they object to the school policy. Some have suffered "actual heckling" from other students, which dissuaded them from "asking to use a private locker room," while the district has blocked some from using private facilities.
This "bigoted" allegation is why the plaintiffs' First Amendment claim under the free exercise clause is also moving forward. Alonso called it the kind of "subtle departure" from "facially" neutral laws that the Supreme Court has frowned upon.
Only 'physical bodily integrity' is legally protected
The first claim thrown out by Alonso was the plaintiffs' argument that they have the right to direct the education of the children.
This only means the "right to provide supplemental education or to choose an alternative to public education," the judge said, "rather than a right to overrule aspects of public education."
He cited other appeals courts that have knocked down attempts by parents to stop certain curricular activities. In one, young children were asked how much time they spend "thinking about touching other peoples' private parts," and in another, students were subjected to a "mandatory AIDS-awareness assembly" where masturbation and "orgasm face" were simulated.
The Township policy "might undercut" parents' ability to teach their children modesty, Alonso said, but the plaintiffs have shown "no case that suggests the right to direct education includes a right not to have their teachings undermined by public school."
Perhaps most troubling for high school girls who are anxious about their developing bodies, the judge said they enjoy no right to not be seen naked by the opposite sex.
MORE: Obama's transgender policy was never legally enforceable
The student plaintiffs argued they had a right to "bodily privacy that protects their partially- or fully-unclothed bodies," but Alonso said Supreme Court rulings on this right refer to "physical bodily integrity" – being touched – "not visual bodily privacy."
The 7th Circuit, which binds Alonso's court, has its own specific ruling on the subject, he said. It ruled against the "tactile" strip search of a jailed man by female guards and distinguished it from "visual" searches.
Alonso noted, however, there was a circuit split on the issue. Even as it upheld the Boyertown Area School District's transgender policy as "narrowly tailored" to a "compelling state interest," the 3rd Circuit ruled that the Constitution "recognizes a right to privacy in a person's unclothed or partially clothed body."
The judge said "it would not shock" him if the 7th Circuit or Supreme Court "one day recognizes the right to bodily privacy" as the plaintiffs want, but until then, Alonso does not have the right to "expand the substantive rights protected by the Due Process Clause."
Christiana Holcomb, legal counsel for the alliance, said the court allowed "key claims" to go forward.
"Letting boys into girls' showers, restrooms, and locker rooms is sexual harassment," she wrote in a statement. "Students should be confident that their school will protect their privacy and dignity. So far, this school district has failed to do so."
MORE: Boys who think they're girls win girls' state track championship
IMAGE: traveliving/Shutterstock
Like The College Fix on Facebook / Follow us on Twitter