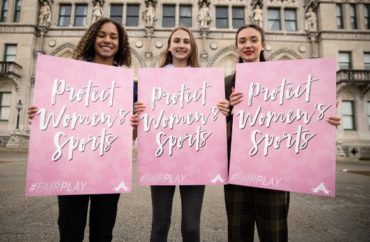 Unlike earlier House version, no mention of 'physician' who assigned sex at birth
The sparse wording of Title IX has led some school districts, activists and regulators to interpret "sex" as including "gender identity" in recent years. A new bill in the U.S. Senate would nix that novel interpretation, defining sex as it was understood when Title IX was created: as "reproductive biology and genetics at birth."
The Protection of Women and Girls in Sports Act, which does not appear to have a bill number yet, is worded differently than a one-sentence House bill by that same name that was introduced in January. HR-5603 determines sex "on the basis of sex assigned at birth by a physician."
The Senate bill is two pages long. It would amend Title IX so that any recipient of federal funds who "operates, sponsors, or facilitates athletic programs or activities" may not "permit a person whose sex is male to participate in an athletic program or activity that is designated for women or girls."
Sex is to be recognized "solely" on reproductive biology and genetics at birth, it says.
The bill is sponsored by Sens. Kelly Loeffler of Georgia, Mike Lee of Utah, James Lankford of Oklahoma, Marsha Blackburn of Tennessee and Tom Cotton of Arkansas – some of the highest profile Senate Republicans. In contrast, the highest profile sponsor of the House bill is the scandal-prone Republican Rep. Steve King of Iowa, who lost his primary this summer.
In a press release Tuesday, Loeffler cites the Connecticut Interscholastic Athletic Conference's policy of allowing boys who identify as girls compete in track competition. The result has been "two biological males winning 15 women's track championship titles previously held by nine women," the release says: "One of these males set a first-place record for the women's track event, which would have been 140th place in men's track."
Sued by three female students (feature image) who suffered competitive losses because of the policy, the conference claimed that it wasn't covered by Title IX, even though federally funded school districts outsource the competitions to the conference.
The Department of Justice sided with the girls in their litigation, and the Department of Education threatened to defund the participating school districts this spring.
MORE: Feds threaten to defund Conn. schools for letting boys in girls' sports
Loeffler said "sports should be no exception" in Title IX's promise to treat girls equally, citing the "invaluable life lessons" and "confidence" she gained by playing sports: "This commonsense bill protects women and girls by safeguarding fairness and leveling the athletic field that Title IX guarantees."
Also in the release, Blackburn said she was motivated to protect "the integrity of healthy competition … Schools and universities that allow males to participate in women's sports defeats the purpose of Title IX."
Conflating sex and gender identity violates the "fundamental lessons" that kids learn through sports "about fairness and integrity in a safe environment," Cotton said.
Conservative groups praised Loeffler for introducing the bill, which confirms that females "deserve the opportunity to be champions," in the words of Christiana Holcomb, legal counsel for the Alliance Defending Freedom, which is representing the female athletes in the Connecticut litigation.
Policymakers who "pretend biological differences are irrelevant" diminish opportunities for females, she said: "Comparably gifted and trained males will always have physical advantages over females—that's the entire premise behind women's sports."
Alanna Smith, one of those Connecticut girls, said it was "demoralizing to know—even before I get to the track—that no matter how hard I work, I won't be competing on a fair field," as reflected by her artificially low placements in races: "My fellow female athletes and I have repeatedly missed out on medals and state titles. Everyone knows it isn't fair."
"Allowing boys to play on girls' sports teams is unfair and it poses increased physical risk to girls, particularly at the high school and college levels," Family Research Council President Tony Perkins said in Loeffler's release.
"Women and girls, regardless of political persuasion, deserve to have the laws that protect us respected and followed, ensuring equal opportunities and benefits in sports for all female athletes," Concerned Women for America Legislative Action Committee President Penny Nance said.
MORE: Justice Department sides with girls challenging Connecticut policy
MORE: Connecticut under federal investigation for anti-female policy
IMAGE: Alliance Defending Freedom
Like The College Fix on Facebook / Follow us on Twitter