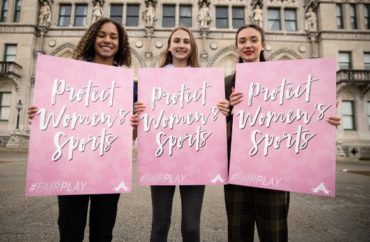 Connecticut transgender policy turns Title IX 'on its head'
"They are incorrect." The Department of Justice did not mince words in its statement of interest supporting a lawsuit against a state athletic organization that forces girls to compete in sporting events with biological males who identify as girls.
High school athletes Alanna Smith, Chelsea Mitchell and Selina Soule (left to right, above) are seeking an injunction against the Connecticut Interscholastic Athletic Conference to stop "males—individuals with an XY genotype—from participating in [CIAC] events that are designated for girls, women, or females."
Not only does CIAC's transgender rule have no basis in Title IX, the feds argued: It "turn[s] the statute on its head."
"Because of the physiological differences between men and women, the existence of women's sports teams permits women to participate more fully in athletics than they otherwise could," the statement says. To act without this in mind would undermine women's "equal athletic opportunity" as required by the statute.
It's the government's second intervention in the Connecticut dispute. The Department of Education's Office for Civil Rights opened an investigation last summer into whether the CIAC policy denies "equal athletic benefits and opportunities to girls," and whether CIAC retaliated against Soule when her mother vocally protested the policy, as Soule claimed.
CIAC has tried to get out of the lawsuit by arguing that it's not covered by Title IX, an argument the girls' lawyer called out of step with "clear federal case law" on athletic associations that control public school competition.
The political environment for single-sex sports legislation is also heating up. Idaho Gov. Brad Little signed a bill into law banning biological males from girls' sports this week, and Ohio lawmakers have proposed the same in a "Save Women's Sports" bill.
MORE: Connecticut gives female athletes 'extra lessons in losing'
Congress left gender identity out of updates in recent years
CIAC's transgender athlete rule differs from that of the NCAA, which specifically orders biologically male athletes to use "testosterone-suppressing hormones" for a year before going head to head with females. Males can enter girls' competitions in Connecticut simply by asserting a female gender identity.
Turning to text and history, the Justice Department said that in 1972, when Title IX was passed, the word "sex" clearly referred to biological sex.
It pointed to language from a Supreme Court decision that year concerning a federal law that treated military men and women differently in qualifying for a "dependent's allowance."  The high court called sex "an immutable characteristic determined solely by the accident of birth," just like "race and national origin."
The brief also argued that if Congress wanted to protect gender identity and not just sex under Title IX, it easily could have changed the law. That's what lawmakers did in a 2013 amendment to the Violence against Women Act and their 2009 approval of the Hate Crimes Prevention Act.
MORE: 'They took away the spots of deserving girls'
The underlying theme: Since its enactment in 1972, Title IX has had no such modification to it.
If sex is not interpreted as binary, other parts of Title IX would become incomprehensible, the statement of interest warned.
Gender identity can include genders other than male and female, according to the American Psychological Association, and CIAC argues that the word "sex" includes gender identity. The feds thus ask what should be made of the section of Title IX that states nothing in it "shall be construed to prohibit any educational institution . . . from maintaining separate living facilities for the different sexes."
It also pointed to other sections of the law that would be strained by the CIAC's reading of it. Title IX creates an exception for "father-son or mother-daughter activities at an educational institution, but if such activities are provided for students of one sex, opportunities for reasonably comparable activities shall be provided for students of the other sex."
MORE: Connecticut under federal investigation for anti-female policy
Another provides a "transitional period" for single-sex schools that plan to admit "students of both sexes."
If Title IX prevents sex discrimination, requiring students to compete in sports with others of their same sex isn't discrimination, the government argues.
"The situation is no different for transgender students specifically: biological males with a female gender identity are exposed to the same conditions as similarly situated biological females with a male gender identity," it says.
"If the law were otherwise, countless sex-specific policies would be per se unlawful," the statement counseled: "A policy mandating that male students not frequent the women's bathrooms or locker rooms, for example, would be susceptible to challenge."
MORE: Trans girls win 1st, 2nd at state track championships
Turning to legislative history, the government noted that Title IX's sponsor, Democratic Sen. Birch Bayh of Indiana, stated that the law would "permit differential treatment by sex . . . in sport facilities."
"Reading Title IX to compel schools to require biological males to compete against biological females in athletic competitions is precisely the type of interpretation that this Court should reject" because it would produce outcomes discordant with the rest of the law, the statement concludes.
The Alliance Defending Freedom, which is representing the girls, cheered the statement of interest. "Girls shouldn't be reduced to spectators in their own sports. Allowing males to compete in the female category isn't fair and destroys girls' athletic opportunities," legal counsel Christiana Holcomb said in a written statement.
MORE: Competed as man last year, won championship as woman this year
MORE: You're racist if you oppose men in women's sports?
IMAGE: Alliance Defending Freedom
Like The College Fix on Facebook / Follow us on Twitter