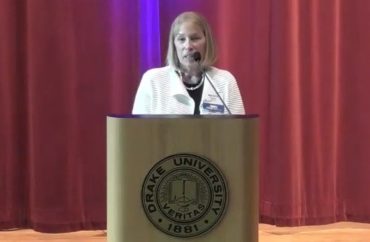 'Genuine issues of material fact' and a 'dearth of case law'
Six years before the U.S. Supreme Court legalized same-sex marriage nationwide, Marsha Ternus helped legalize it in Iowa. The decision cost the chief justice of the Iowa Supreme Court her job: Voters removed her from office.
Her behavior in a Title IX proceeding may end up costing Ternus another job: "external adjudicator" in Title IX cases for a private Iowa college.
A federal judge rejected motions for summary judgment by Grinnell College in a gender-bias lawsuit brought by an accused student, sending the matter to a jury trial.
There are "genuine issues of material fact" in the treatment of "John Doe" in a Title IX proceeding spurred by two accusers, U.S. District Judge Rebecca Goodgame Ebinger wrote in Tuesday's opinion.
Now a lawyer in private practice who specializes in student conduct adjudications, Ternus earned a rebuke from her federal colleague for apparently refusing to consider evidence that one of Doe's accusers consented to sexual activity with him.
The adjudicator also may have relied on gender stereotypes about women and birth control to determine that Doe lacked consent, the judge wrote. Ternus appeared to go easier on a female student found responsible for sexual misconduct in a different case, as well.
Doe's Title IX and breach-of-contract claims will now go before a jury. This is uncharted territory in some sense, Ebinger admitted, citing a "dearth of case law" on Doe's situation: "genuine disputes of material fact" on gender bias in college disciplinary proceedings.
Ternus wasn't the only participant in Doe's prosecution to draw Ebinger's scrutiny. The judge said Andrea Conner, assistant vice president for student affairs, invited Ternus to possibly violate a policy she oversaw. Title IX Coordinator Angela Voos, who also serves as vice president for strategic planning, invented a policy requirement in her deposition.
Even Grinnell's legal team falsely characterized its adjudication policy in Ebinger's court, the judge wrote in a footnote. The policy does not provide for either party to "submit questions for the external adjudicator to ask during the individual meetings," as the college claimed.
Improperly showed Doe's appeal to the adjudicator
Like many other colleges, Grinnell overhauled its sexual-misconduct procedures under pressure from the Obama administration and its own campus activists, known as Dissenting Voices.
One of the major changes was ditching "hearing boards," which feature testimony from parties in a hearing, and creating the position Ternus would occupy, which interviews parties separately in private meetings.
This is known as a single-investigator model, and Grinnell was in such a hurry to appease Dissenting Voices that it changed the policy during the academic year, Ebinger noted.
The new policy is unusual in that it lets accusers bring an "impact statement" to the meeting with the adjudicator and recommend sanctions – before any finding has been reached. Also unusual: Grinnell includes the gender-neutral pronoun "zi" in its sexual misconduct policy, whose section on "coercion" plays a role in Ebinger's ruling.
Grinnell's disputed adherence to its own policies forms the basis of Doe's breach-of-contract claims. He said the college violated 17 "areas" of the sexual-misconduct policy in his proceeding. One of them: the impartiality of the appeals officer, in this case the administrator Conner.
Doe's first accuser, described by Ebinger as "Complainant #1," mentioned two nonconsensual encounters but only wanted to keep Doe out of her study-abroad program. As a result the college pursued an informal resolution, meeting with Doe to discuss "the meaning of affirmative consent."
But when "Complainant #2" came forward months later, also citing the study-abroad program but claiming nonconsensual intercourse, the college changed the proceeding to a formal investigation.
The alleged incidents took place about six months to a year before they were reported. Doe said he "remembered little" about the first encounter with the first accuser and denied the second happened. He claimed the incident with the second accuser was consensual. (As Ebinger notes, Grinnell had three versions of the sexual-misconduct policy during Doe's enrollment.)
Ternus's adjudication was unusual. She didn't meet with the investigative team, an outside law firm, as required by Grinnell policy, and the second accuser refused to meet with Ternus. She nevertheless found Doe responsible for both sets of incidents and recommended his expulsion, citing the absentee accuser's claims and a "predatory pattern of behavior" with both accusers.
Conner made the proceeding even more unusual when Doe appealed, claiming Ternus ignored the preponderance-of-evidence standard and improperly consolidated the complaints into one investigation.
The appeals officer invited Ternus to comment on Doe's petition, and the former chief justice "responded with several pages of written comments supporting the conclusions in the
determinations of responsibility," Ebinger wrote. "The Policy does not permit" this, and Conner didn't tell Doe she did it.
Judge sends anti-male bias claims against Grinnell College to jury trial by The College Fix on Scribd
'Outdated and discriminatory views of gender and sexuality'
Doe had to show that the "erroneous outcome" of his proceeding included gender bias as a "motivating factor." Evidence could include "particular strengths" of his case that were ignored or "procedural flaws," such as "patterns of decision-making" that suggest gender influences.
A jury could find that Grinnell's review of Doe's appeal was not "impartial," which carries "heightened significance" because it was the basis of his punishment, Ebinger wrote. College policy requires the appeals officer to not have bias, and even if "consultation" with the adjudicator was not prohibited, a jury could conclude that it "detracts from the appeals officer's independence."
The judge didn't find any genuine dispute over gender bias in Grinnell's Title IX training materials, distinguishing them from the materials at issue in a 2015 ruling against Washington & Lee University.
What did concern Ebinger was the "reasoning behind the determinations of Doe's responsibility" in this case. It was here that a previous Ternus adjudication came back to haunt the former judge.
Ternus may have demonstrated that she holds "outdated and discriminatory views of gender and sexuality," calling the findings against Doe into question, Ebinger said. She cited a ruling against Marymount University that blamed a hearing panelist for suggesting that men get aroused when they are sexually violated. (Marymount ended up settling.)
Doe had claimed the college "arbitrarily" judged his first accuser more credible than him and assumed she was "naïve and sexually inexperienced." He also said it ignored evidence that the second accuser – the one who refused to meet with Ternus – had "voluntary" sex with him.
MORE: Marymount adjudicator suggested men enjoy being sexually violated
Fascinating choice here–in analyzing gender-bias section of summary judgment decision, judge leans heavily on one of the two strongest TIX-related MTD decisions–Marymount (Judge Ellis). pic.twitter.com/htZNvwIzGB

— KC Johnson (@kcjohnson9) July 9, 2019
Evidence that she consented but just didn't like it
Because the second accuser's case shows "a genuine dispute of material fact," Ebinger chose not to analyze Doe's claims about the first accuser's case.
Complainant #2 made statements to the investigative team that were left out of the "determination of responsibility," possibly because they would have complicated its finding that Doe coerced her into intercourse. They included: "I guess I just felt like fine, it's just sex, but I just didn't really want to do it," and "I remember like to a certain extent like being like well I'll just get this over with."
Ebinger wrote that the "determination does not analyze, consider, grapple with, or even note" these and other statements. They suggest that the accuser "chose to engage in sexual activity," yet the determination said she "passively" let him have sex with her.
"One reasonable conclusion" for a jury is that the adjudicator made a "gendered assumption that a woman would not consent to sex she felt was meaningless," the judge wrote.
Ebinger also cited the determination's view that a woman would not consent to sex if she ran out of birth control, as did Doe's second accuser. But the accuser herself didn't make this connection, instead telling the investigative team that she "asked Doe to wear a condom" because she had run out of birth control.
The determination is missing "evidence incongruous with common stereotypes about the typical behavior of women in sexual encounters," the judge continued. Ebinger noted the second accuser told Doe he could be "more rough" with her and didn't have to "take me slowly," which flouts the stereotype of women as "passive" during sex.
Ternus had treated an accused female student differently in a 2015 case involving a same-sex couple. The adjudicator wrote that she believed the accused student "mistakenly thought she was engaging in conduct that would be welcomed by" the accuser. "In contrast, Doe's actions are not described as mildly" despite the fact he claimed the same thing, Ebinger wrote.
Grinnell failed to convince the judge to throw out breach-of-contract claims that Doe added following its motion for summary judgment. Ebinger said it had "sufficient notice of the grounds" for his claims, namely that it gave him a "disproportionate sanction" in spite of a "flawed process and lack of evidence."
Doe claimed that by denying him a hearing, Grinnell deprived him of "procedural guarantees" such as cross-examination and the right to present evidence. It also forced him to "prove that the accusations against him were not true," violating its preponderance standard of evidence.
The college insisted that its "deviations" from written policy – including the lack of participation by then-Dean of Students Sarah Moschenross and extra allowances for the first accuser – were not "material" and thus it "substantially performed" the contract with Doe.
Ebinger again found a "factual dispute" that a jury must resolve: whether the deviations "in the aggregate" made the proceeding unfair and hence breached the contract.
MORE: Student expelled for 'gray rape' claim settles lawsuit
IMAGE: Drake University/YouTube
Like The College Fix on Facebook / Follow us on Twitter