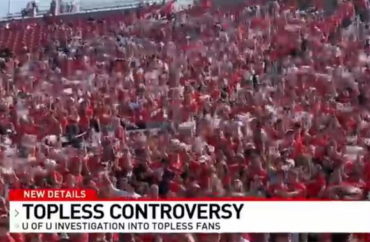 Police officer looked and allegedly did nothing, one mother says
Two female students managed to attend Saturday's University of Utah football game topless, causing shock and outrage among some fans.
"Some people who saw it say it was appalling," reported ABC4 Salt Lake City.
Melea Johnson, who attended the game with her husband and their children, ages 13 and 10, told the news station the young women "had a haphazard 'U' just kind of sloppily painted on their back, and we're like, 'is that all they're wearing?'"
"We didn't know. And our first instinct is we have our kids with us and oh, my gosh, we've got to make sure we shield them. … No one said anything — they walked past a police officer, who was watching them, said nothing, didn't stop them, and my jaw just dropped. I'm like, 'What is going on?'"
But university spokesman Christopher Nelson told KUTV that the women were eventually asked by female police officers to put on their shirts, "and they complied."
Nelson also told the news channel university police are investigating the incident further.
President Taylor Randall and Athletics Director Mark Harlan issued a statement regarding the incident to season ticket holders.
"We want to be very clear that profanity, public intoxication, rude and disrespectful behavior, racial and derogatory comments or verbal attacks directed at individuals or groups will not be tolerated," it stated in part.
In the university's statement to ABC4, the spokesman added the students also will be referred to the dean of students for other potential discipline.
ABC4 also reported there's "conflicting reports the girls may have been wearing pasties."
MORE: Cornell's Inaugural 'Sex Week' Offers 'Explicit' Fetish Workshop, Sex Toys, Porn
IMAGE: ABC4 screenshot
Like The College Fix on Facebook / Follow us on Twitter