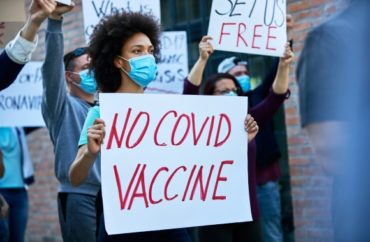 Two professors also argue it's unethical to force students to get vaccine
A recent survey of 2,000 college students found that 69 percent support requiring COVID vaccines for a return to campus this fall — but that still leaves a significant portion of students who are against the mandate, now required at more than 500 colleges nationwide.
In interviews, protests and social media posts, some college students have expressed opposition to the vaccine requirement.
"I'm no medical professional, but personally, I wouldn't want a vaccine forced on me to attend in-person classes, especially since it was only recently approved by the FDA for emergency use," said Jason Galak, a junior at Baruch College, told The College Fix.
"There are people who are still skeptical of the vaccine — as human beings with opinions they have the right to be — and they should be able to receive the same in-person learning experience as everyone else," he said via email. "As someone who has already taken the vaccine, I see alot of discrimination against those who did not take the vaccine yet, and I believe the government is playing a large role in that by creating policies that do not allow people without vaccines to do certain things like go to school in person."
The survey that found a majority support for the vaccine, conducted by College Pulse and released earlier this month, also reported that 24 percent oppose it, while the remaining don't know. But the survey results indicated students are motivated by a desire for a "return to normalcy," BusinessWire reports.
But what about students' rights?
The requirement "is a clear violation of our 14th Amendment right, which states, 'No State shall make or enforce any law which shall abridge the privileges or immunities of citizens of the United States; nor shall any State deprive any person of life, liberty, or property,'" Anthony Ivaliotis, a student at Buffalo State University, told The College Fix.
"The decision to make covid vaccines mandatory to attend in person classes across any school is ridiculous," he said via email. "I'm attending Buffalo State this fall and they won't allow non-vaccinated people on campus. I am a student athlete and majoring in criminal justice and to deny my right to get an education and to continue my athletic career is unfair, not only for me but for thousands of other students."
It's also unethical, two professors recently argued in an op-ed in The Wall Street Journal. They pointed out that risks of the currently experimental vaccine outweigh the need for young people.
"For those under 30, the risks of serious morbidity and mortality are close to zero. By contrast, early indications from passive surveillance systems (which call for follow-up investigation) and a June 10 review by the FDA's Vaccines and Related Biological Products Advisory Committee indicated an excess risk for heart inflammation, especially in men 30 and younger," wrote Aaron Kheriaty, a professor of psychiatry and director of the Medical Ethics Program at the University of California, Irvine, and Gerard Bradley, a law professor at Notre Dame.
They also pointed out that the COVID vaccine mandates "ignore the huge number of students—thousands of them at Notre Dame—who have already recovered from Covid infection, and who thus possess natural immunity, which studies have suggested is more robust and durable than vaccine immunity."
Jessica Villecco, who just completed her freshman year at the College of Staten Island, told The College Fix that "it is our freedom to either receive or deny a vaccination."
"Personally, I oppose the COVID-19 vaccination," she said via email.
For Villecco, who attends college in New York, Gov. Andrew Cuomo's decision that forces students — but not faculty — to get the vaccine is completely "hypocritical."
"If Governor Andrew Cuomo is making the students receive the vaccine he should be making faculty also receive the vaccine," she said.
At a rally at Rutgers University last month, hundreds of students and others took part in a medical freedom rally to protest the required COVID vaccine, shouting "my body, my choice."
And in a video on Instagram, SUNY-Geneseo student activist Owen Stevens encouraged his followers to file for an exemption if they don't want the vaccine.
MORE: I've tested negative for COVID 17 times this semester. My school still forces me to mask outside, alone
IMAGE: Drazen Zigic / Shutterstock
Like The College Fix on Facebook / Follow us on Twitter