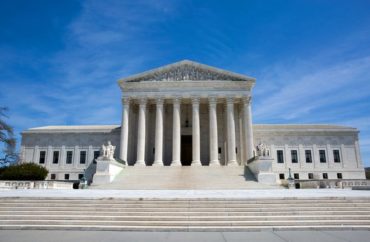 'Our Constitution is color-blind, and neither knows nor tolerates classes among citizens'
Progressives, most especially in the education realm, consider the philosophy of "colorblindness" — where people are judged on their merits and actions rather than skin color — to be anathema.
One of the main reasons, they say, is because it allows (white) people "to distance [themselves] from the racial inequality all around us […] especially those more covert yet entrenched forms of discrimination in education, housing, health care, and beyond."
But as previously noted, colorblindness "isn't just about looking at [people] as tabulas rasas." It's about treating everyone equally when it comes to expectations, respect, etc.
And, most especially, the law.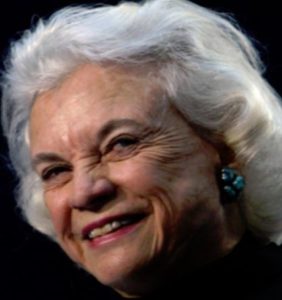 Twenty years ago regarding affirmative action, the first woman to sit on the United States Supreme Court, Sandra Day O'Connor (appointed by President Reagan, pictured), said "We expect that 25 years from now, the use of racial preferences will no longer be necessary to further the interest approved today."
Alas, this past week the high court acted five years sooner with its decision in Students for Fair Admissions Inc. v. President and Fellows of Harvard College.
Chief Justice John Roberts referenced O'Connor's statement in the majority opinion, noting "Grutter imposed one final limit on race-based admissions programs. At some point, the Court held, they must end."
The importance of an end point was not just a matter of repetition. It was the reason the Court was willing to dispense temporarily with the Constitution's unambiguous guarantee of equal protection. The Court recognized as much: "[e]nshrining a permanent justification for racial preferences," the Court explained, "would offend this fundamental equal protection principle." …

Twenty years later, no end is in sight. "Harvard's view about when [race-based admissions will end] doesn't have a date on it." […] Neither does UNC's. […] Yet both insist that the use of race in their admissions programs must continue. But we have permitted race-based admissions only within the confines of narrow restrictions. University programs must comply with strict scrutiny, they may never use race as a stereotype or negative, and—at some point—they must end. Respondents' admissions systems—however well intentioned and implemented in good faith—fail each of these criteria. They must therefore be invalidated under the Equal Protection Clause of the Fourteenth Amendment.
MORE: Constitutional scholars, black conservatives, Asian Americans praise ruling banning affirmative action
What's more, the majority opinion delightfully skewered the opinions of two of the three dissenting justices, Ketanji Brown Jackson and Sonia Sotomayor.
[W]hat one dissent denigrates as "rhetorical flourishes about colorblindness" […] are in fact the proud pronouncements of cases like Loving and Yick Wo, like Shelley and Bolling—they are defining statements of law. We understand the dissents want that law to be different. They are entitled to that desire. But they surely cannot claim the mantle of stare decisis while pursuing it.
Jackson made use of Justice John Marshall Harlan's words regarding the (in)famous Plessy v. Ferguson case, whereupon Roberts hit back: Harlan said "[I]n view of the Constitution, in the eye of the law, there is in this country no superior, dominant, ruling class of citizens. There is no caste here. Our Constitution is color-blind, and neither knows nor tolerates classes among citizens."
Clarence Thomas, in a majority concurrence, ripped Jackson further, saying her race-based "broad observations about statistical relationships" cast all blacks as "victims."
Thomas added that Jackson's "irrational" invocation of "the legacy of slavery and the nature of inherited wealth" secures blacks in a "seemingly perpetual inferior caste" which is "an insult to individual achievement and cancerous to young minds seeking to push through barriers."
As expected, the usual suspects and their allies in the mainstream media were apoplectic about the SCOTUS ruling; on the other hand, the decision may end up being an added boon to the diversity and anti-racism industry led by the likes of Ibram Kendi, Robin DiAngelo and Glenn Singleton as universities seek every way imaginable around it.
Still, as no country can long survive divided as the U.S. has been, the high court may just have saved it.
MORE: Affirmative action continues to hurt minorities, UCLA professor reaffirms
IMAGE: Steven Frame / Shutterstock.com
Like The College Fix on Facebook / Follow us on Twitter