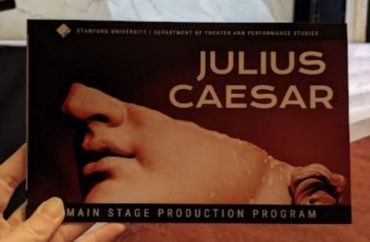 Last week, a Stanford University theater group performed a reimagining of Shakespeare's classic "Julius Caesar" — with some of the roles gender-swapped to include "female-identifying" actors.
There was also a differently abled student in the cast.
According to the production's event site, the play is "set five years in the future" and "opens up many lenses to our contemporary life and asks timeless questions of power, politics, and betrayal."
A review of the performance by The Stanford Daily's Alexa Figueroa notes that, thanks to director Michael Rau, there were "many intriguing gender swaps" including Brutus and Cassius played by "female-identifying" students.
Rau also changed the "gender pronouns in the monologues" and terms such as "sisterhood" and "woman of honor."
Rau [also] incorporated mass media into the performance. The use of technology by the ensemble of characters who appeared in the audience would allow the audience to reflect on how the existence of media can shape political events.

This was apparent at Caesar's funeral, where Mark Antony advances from the audience to deliver a heartfelt speech to the Roman citizens, questioning the honor of the conspirators and stirring citizens to riot. He enumerates the good deeds of Caesar while repeating, "But Brutus is an honorable woman," insinuating to the audience the brutality of the murders. The ensemble members, holding cell phones in their hands, record him in videos, which become live films projected onto the stage.

This symbolizes how technology is a powerful yet dangerous method to express and promote ideas in today's world. However, the cell phones were startling, as they did not fit the original time period the play is set in.
On March 3 there was a "companion interdisciplinary conversation" which claimed it would "help audience members see the clear parallels to today that exist in this play" — such as the "dangers and nature of tyranny" and a "citizen's obligations to their nation."
Stanford certainly isn't unique in reinterpreting Shakespeare; in 2017 UCLA grad students put on a "gay [and] Latino" version of "Romeo and Juliet," and University of Minnesota students redid the playwright's "Twelfth Night" via the "lens [of] trans identity."
In 2021, a Harvard theater group performed "Macbeth in Stride," a look at "what it means to be an ambitious Black woman through the lens of one of Shakespeare's most iconic characters." Although there were white actors in the cast, one of its performances was "an exclusive space for Black-identifying audience members."
MORE: University fellow: Shakespeare's plays could be 'triggering' due to lack of sexual consent
MORE: Famed Shakespeare's Globe theatre hosts 'Anti-Racist Shakespeare'
IMAGE: Paige Bailey / Twitter screencap
Like The College Fix on Facebook / Follow us on Twitter