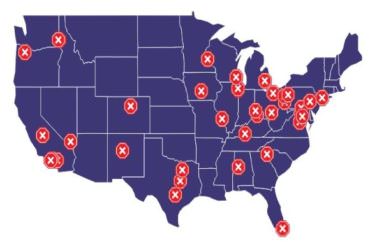 Vandalism of pro-life campus displays isn't just a problem — it's an epidemic.
In the last month alone, nearly a dozen pro-life displays on campuses across the country have been vandalized, according to Students for Life of America, the nation's largest pro-life youth organization.
The steep spike underscores another trend — more than three dozen displays have been vandalized in recent years, and most of those incidents occurred during the last year or so, said President of Students for Life of America Kristan Hawkins in an interview with The College Fix.
Crosses representing aborted babies have been ripped up, stomped on, or thrown away. Chalk drawings on sideways with pro-life messages are quickly washed away or scribbled over. Paint thrown on displays. Posters ripped down. Brochures destroyed. The list goes on and on.
It's gotten so bad that Hawkins and her team recently created an interactive map of America detailing the incidents. Each pinpoint lists the name of the school, the date of the vandalism, and what happened.
For example, according to the map, in April 2012 at Western Kentucky University, condoms were put on crosses at a pro-life display. At Baylor University in February 2015, pro-life signs were removed and pink and blue flags stolen. At Kutztown University in March of this year, the administration destroyed pro-life chalking, the map states.
"We have seen such a huge increase in the last two years, and a majority of these pinpoints are from just this past year," Hawkins said of the map. "It was a way for us to start tracking them and keeping tabs on what is happening."
"I was kind of getting sick of sending out a press release every time it happened," she added, noting there were at least 10 cases of vandalism in October alone.
What's worse, the map isn't even a complete picture. Many times students don't even report the attacks to headquarters, Hawkins said, adding she only learns about the incidents later, when visiting campus.
"They take it in stride, they'll rewrite the sidewalk chalk or replant the crosses. They don't think to put out a press release on it," she said.
MORE: Student pro-life display casually vandalized in broad daylight at CU-Boulder
MORE: University of Miami Pro-Life Display Vandalized – TWICE!
MORE: Pro-life pictures of fetuses in utero taken down – within hours – at USC
As for the trend, Hawkins said she thinks it might be an after effect of President Donald Trump's election.
"Since the election we have definitely seen an increase on campuses just with the level of discourse dissolving," she said. "Those on the left, the students, somehow I think they feel justified in behaving this way. … Sadly they are just unprepared to have those conversations, they can't deal with this, they can't handle it."
"I have told our students, I would expect more attacks like this," Hawkins said. "The closer we get to achieving our goal, the more emboldened they will become."
In the coming months, Students for Life of America chapters will help the group take part in a West Coast tour protesting at major Planned Parenthood abortions facilities and key federal lawmakers' offices.
On the tour, the group travels with a truck filled with 328,348 baby socks, each sock representing a child aborted by Planned Parenthood this year.
MORE: Crosses honoring aborted babies ripped up by vandals at Catholic university
MORE: Nearly 200 pro-life posters torn down at Catholic university
MORE: San Jose State University lecturer threatens to 'beat the s**t out of' pro-life protesters
Like The College Fix on Facebook / Follow us on Twitter