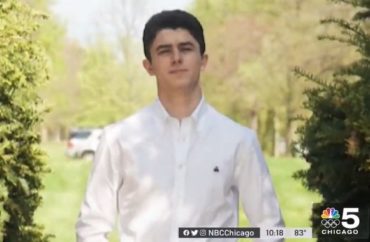 A promising University of Chicago student died Sunday after a stray bullet hit him, one of the latest casualties of the murderous violence that continues to wrack the Windy City.
"Max Solomon Lewis, a 20-year-old University of Chicago student, was commuting home from his summer internship last Thursday evening when a stray bullet pierced the window of his train car and hit him in the back of the neck," Forward reports.
After he was shot he was quickly transported to the University of Chicago Medical Center for emergency surgery but the injuries reportedly left him paralyzed from the neck down.
"Saturday night, doctors asked Lewis to make a choice: remain on a ventilator for the rest of his life or remove life support. He blinked his choice to his parents and doctors: remove the ventilator. Lewis died Sunday morning," Forward reported.
"He did nothing wrong," Lewis' best friend and roommate told NBC Chicago. "He wasn't walking into a bad area, he wasn't doing something he shouldn't have done. He was working an internship and took public transportation that thousands of millions of people take in the city."
A statement from the University of Chicago said the campus community "is devastated by the loss."
"Our deepest sympathies are with Max's family, friends, and all who knew him. He was a talented student and beloved individual who will be greatly missed."
Lewis' death came amid a very deadly weekend in Chicago.
The July Fourth weekend was "Chicago's most violent weekend of 2021," with 104 people shot and 19 people killed, the Chicago Sun-Times reported.
"Among the wounded were at least 13 children and two Chicago police supervisors. Five of the kids were shot within nine hours Sunday evening through early Monday," the Sun-Times reported.
MORE: Student outrage after police protect UChicago from armed robbery suspects
IMAGE: screenshot
Like The College Fix on Facebook / Follow us on Twitter