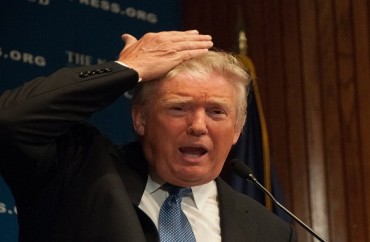 The newly appointed diversity chair of the University of Central Florida Student Government Association has stated that those who support President Trump are not welcome on campus.
Which, of course, further proves the point that academic "diversity" never includes that of political viewpoint.
UCF student Grayson Lanza had made that comment on Facebook a week before last year's presidential election. He also made an appearance at a December pro-Trump rally complete with a sign which read "No Trump, No KKK, No Fascist USA."
According to Red Alert Politics, Trump-supporting student Daniel Hanna related an encounter he had with Lanza:
"When we started debating politics, I eventually said 'you know the great thing about this country is we can both differ regarding political views but we can openly discuss it… Then I offered him a handshake.' He said 'I'm not shaking your hand, I do not tolerate you and you are not welcome here.'"
It seems the UCF SGA shares Grayson's politics (surprise!):
Lanza's confirmation to Diversity Chair comes on the heels of the same SGA turning down Karis Lockhart, the former UCF College Republican Chairwoman, for the position of Governmental Affairs Director. Lockhart believes she was turned down because of her conservative values and affiliation with the Republican party.

"I never thought my background with College Republicans would be a negative in this process. My experience of leading a group of 100+ students on UCF's campus, my network in the real world of government, my understanding of UCF protocols, and the relationships I've built with administration apparently meant nothing to them because all they saw was 'Republican' and voted no," Lockhart told Red Alert Politics. …

Lockhart explained to the senators that her role as Governmental Affairs Director would be to serve all students and that her personal politics would be set aside because there are students with multiple viewpoints on campus. That answer wasn't good enough, however, as they continued to ask her about sanctuary campuses and eventually voted her down – 5 vote for and 13 votes against. At this point, the position is unfilled.
Lanza, on the other hand, was confirmed to his position by a vote of 19 to 6 … "despite the SGA's call for non-partisan (or politically non-involved) officers."
"He should not be head of diversity," Daniel Hanna added. "I do not care if someone equally as liberal as him takes the position. As long as it's not someone who has been actively aggressive towards people who disagree with him."
MORE: U. Central Florida student suspended for 'correcting' girlfriend's apology letter on Twitter
MORE: Student government: Gendered terms like 'brotherhood' are 'textual discrimination'
Like The College Fix on Facebook / Follow us on Twitter
IMAGE: Shutterstock