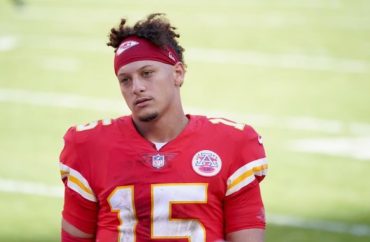 'Cultural appropriation is a massive problem throughout the country'
The Kansas City Chiefs beat the Philadelphia Eagles in Super Bowl 57 last Sunday (and don't get me started on that game-ending "holding" call), but for the usual suspects it became an opportunity lecture about the marginalized and oppressed.
In Grace "Gray" Reed's case, "they" (plural pronouns) used the Syracuse University student paper The Daily Orange to highlight the (alleged) problem of continued cultural appropriation of Native American symbols.
"Cultural appropriation is a massive problem throughout the country," Reed writes in "their" op-ed. "Dressing in traditional clothes that do not belong to one's own culture or using another culture's imagery without consent sends the message that culture and identity is not worth respecting."
Taking advantage of stereotypes about other cultures has the potential to further harmful agendas against those in the community. This can lead to a rise in unwarranted hate against certain groups of people solely because of the culture they celebrate. For the Indigenous community, it causes erasure as it ignores the cultural meanings, rituals and values of the diverse tribes. As a society, we've allowed racist and outdated depictions to be perpetuated even while Indigenous people have asked that we respect their demands.
MORE: Native American group sues to stop Colorado's mascot ban
Note, however, how Reed vacillates between "Indigenous community/people" and "Indigenous activists" (emphasis added). Because it's only the latter that really cares about this stuff.
I know folks like Reed scoff at the notion that monikers like "Chiefs," "Braves" (Atlanta, baseball) and "Blackhawks" (Chicago, hockey) — all highlighted in Reed's article — are supposed to represent positive attributes associated with sports — courage, determination, hard work, fighting spirit, competitiveness, etc. — but for your average Native American (and American in general), they actually do.
A budding journalist might, just might, be interested in what most Native Americans actually think. In a rare moment of venturing out of its big-city progressive bubble, the Washington Post showed over six years ago that nine out of ten Native Americans were not offended by arguably the most controversial name in the sports realm — "Redskins," formerly of Washington DC's NFL team (now "Commanders").
Unfortunately, contemporary journalists, journalists-to-be and student activists eschew objectivity in favor of activism and narratives. Like low pay being responsible for teachers leaving the profession (not student misbehavior) … and how an allegedly "racist" school song must be changed because student activist groups and student government say so. Etc.
Beware, always, the face value.
MORE: Marquette honors Native Americans by removing Native American from school seal
IMAGE: Simon Charles / Twitter screencap
Like The College Fix on Facebook / Follow us on Twitter