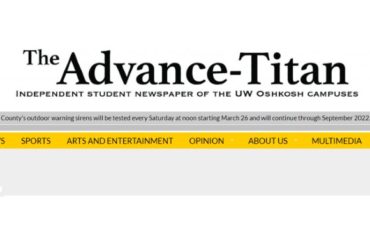 University of Wisconsin-Oshkosh allegedly ordered students to route media requests through its communications department
Student journalists at the University of Wisconsin Oshkosh do not need to ask permission from the communications department before submitting questions to school personnel.
The public university had come under criticism from the Foundation for Individual Rights in Education for "imposing an onerous process on reporters, including student reporters, who want to interview university employees."
FIRE said that reporters with The Advance-Titan were required to "seek permission from the university marketing office to speak to faculty or staff" and then if approved, send questions to the media team to share with the person being interviewed. It also sent a letter to the university last month.
University of Wisconsin communications director Peggy Breister told The Fix the university did "not have a policy" but the guidelines were "best practices."
"We have since met with members of the Advance-Titan and made it clear that they may reach out to university faculty and staff to seek comments/conduct interviews for their stories," Breister told The Fix. "There may be staff members who in turn reach out to [University Marketing and Communications] and ask us to facilitate those interviews. We will continue to do so at their request."
"We also do not have a policy nor do we require students to send us questions," the university spokesperson told The Fix. "We have asked for questions when the person they are interviewing has reached out to us and asked us to get the questions so the source can respond via email."
"Student reporters often reach out to us with a list of questions asking us to find someone to answer those questions," Breister told The Fix. "We have at times reached out to student reporters who have reached out to us with a topic they are covering to clarify the topic so we can connect them with the appropriate source."
FIRE said the process burdened the First Amendment
Anne Marie Tamburro, a program officer with FIRE, told The Fix in March that the process "burdens the First Amendment rights of both journalists and university employees."
The Fix followed up on April 20 to ask about Breister's comments and for a copy of the policy. Tamburro did not provide updated answers by the end of the day on Thursday.
The free-speech group's program officer previously said the approval process is "detrimental to the university's transparency," "inconvenient," and "gives [university officials] impermissible insight into the journalistic process."
While the university did not respond to communications from the free-speech group, Tamburro said FIRE has been in contact with an editor at the Advance-Titan.
"Peggy Breister has continued to argue that her emails to journalists–telling them they must follow the media practices–should be interpreted as optional," Tamburro told The Fix, based on FIRE's conversations with the campus journalists.
MORE: UChicago paper editors remove op-ed criticizing antisemitism
Tamburro said that the issue of preclearance comes up "surprisingly often."
Partly in response to these types of policies, FIRE launched the Student Free Press Initiative. The SFPI defends "free press on campus by advocating for the rights of student journalists at colleges and universities across the country."
This resource for student journalists includes a 24-hour hotline, a guide for "common media law and First Amendment questions," and "resources help you understand how to identify and respond to censorship."
"Student journalists who aren't familiar with the law may think of practices like these as a frequent inconvenience," Tamburro said. However, these  rules are "a serious impediment to their rights."
MORE: UW-Whitewater resigns rather than support free speech survey
IMAGE: The Advance Titan
Like The College Fix on Facebook / Follow us on Twitter