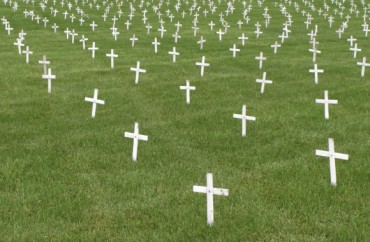 If you didn't think anything could beat the nonchalant public vandalism of the Berkeley College Republicans' property by a "liberal bro," get a load of this chill pro-choice activist at the University of Colorado-Boulder.
Students for Life of America features a report by Rocky Mountain Regional Coordinator Bethany Janzen, who says the CU-Boulder chapter's display of 1,156 crosses to represent aborted babies was vandalized in broad daylight Wednesday:
This afternoon around 3pm a college student walked up to the display and started taking them down. As she took them out of the ground, the Students for Life (SFL) member at the display picked them up and put them back in the ground after her.

"I could do this for days," the student reportedly said as she took down the crosses.

"I could too, but I also have homework I probably should be doing," our Students for Life member responded. "So when you're done, I'm done."

MORE: Women's Center employee caught vandalizing pro-life display

As this took place, the student became more intense and began to pick up crosses and put them in her backpack, stating that she intended to throw them away (two crosses were never recovered).

Soon other club members arrived at the Norlin Quad where the display was hosted and one student leader engaged the girl taking down the crosses in conversation and helped to deescalate the situation.
When campus police showed up and told the vandal, who identified herself as pro-choice, that the display was expressly permitted by CU-Boulder, she feigned ignorance as to what the crosses meant but said "they made her feel uncomfortable."
The student chapter is going to host a "large-scale exhibit" Thursday – its permit lasts all week – to explain the crosses and distribute information on pregnancy resources and non-Planned Parenthood community health centers, Janzen wrote.
Here's the Berkeley chill bro, for the sake of comparison.
MORE: Vandals confront Berkeley CRs, rip up their Trump cutout
Like The College Fix on Facebook / Follow us on Twitter
IMAGE: Shutterstock